Ode "The Oddity" Osbourne Dismantles Opponent Following Death of Head Trainer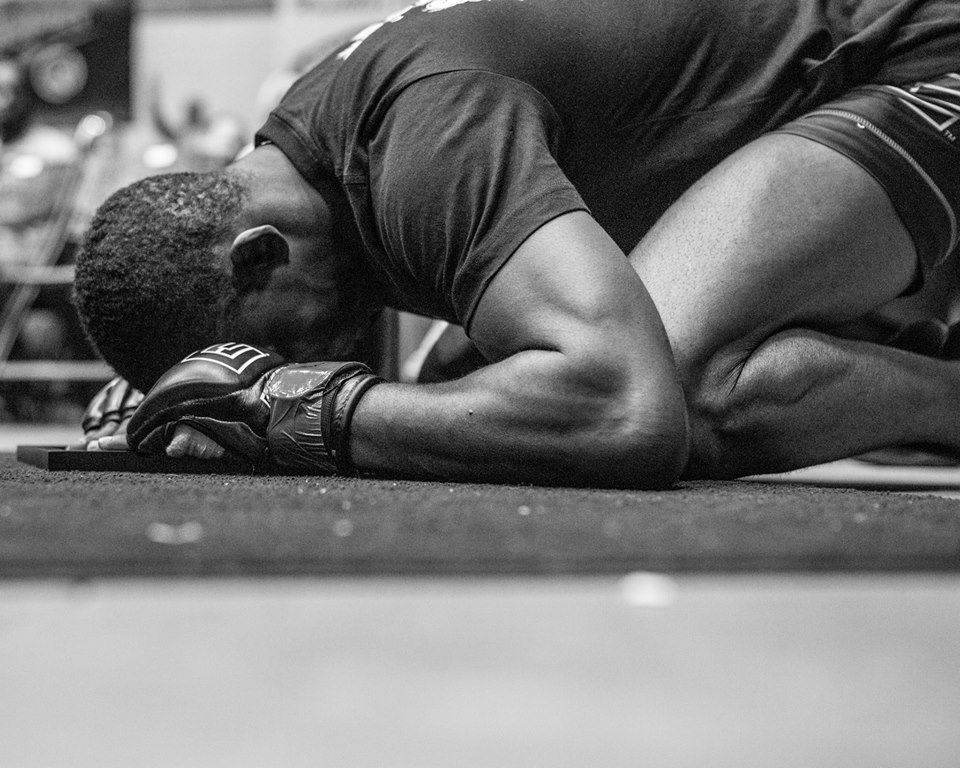 Ode Osbourne (2-0) of Waukesha-MMA forced open the eyelids of the mixed martial arts community, requiring all professional bantamweight fighters to take notice of the rising star. The 135-pound stud fought his opponent at featherweight (145), instead of the originally agreed upon weight of 135-pounds. The unprofessional acts committed by his foe required Osbourne to meet him at 145-pounds in order to keep their scheduled bout. In the co-main event, Osbourne poured his sheer will upon the Iowa native; Doug Milbrath (Estus MMA), in front of a highly electric sold out Waukesha County Expo Center.
On Saturday evening, a day removed from the 14-year anniversary of the 9/11 terrorist attacks, September 12, 2015, Osbourne entered the cage with an angel looking over him as he walked beneath the name of his former head trainer, Reese "Old Man" Shaner, printed above the cage door. The event was dedicated to Reese "Old Man" Shaner, founder of Waukesha-MMA and Wisconsin MMA pioneer, who tragically passed away August 22 as the result of a motorcycle accident.
"He (Shaner) would want me to fight," said Osbourne, while discussing the passing of his head trainer. Osbourne took the tragic loss of his head trainer and turned it into a positive. Using his memory as motivation, he pushed himself to "grind," inside the gym. "As I was training I could hear him saying, "GO HARD," "Find another partner fast," it actually motivated me, more of a positive effect."
Osbourne's focus was apparent when the bell rang and the undefeated fighter brutally beat down his opponent in less than two minutes of the first round. The Waukesha-MMA fighter was cornered by his assistant coaches, Ben Tomes, J.R. Briones, and John Matter.
The Jamaican native delivered a series of strikes through fists and kicks to his much larger opponent. Size didn't faze Osbourne even though his opponent appeared to be several inches taller and pounds heavier. The physically cut physique fighter buzzed through Milbrath like a chain tearing apart twigs, demonstrating his strength and speed. A head-kick stunned Milbrath and a gut wrenching knee disabled Milbrath's ability to stand straight. Osbourne displayed his animal like instinct by pouncing on his victim, as a lion would its prey.  Osbourne improved his record to 2-0 as a pro, and earned a TKO in the first round at 1:39.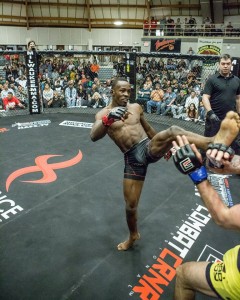 NAFC executive's Scott Joffe and Duke Roufus enshrined Reese "Old Man" Shaner into the North American Fighting Championship Hall of Fame. Those who enter the cage within the organization from that night forward will be fighting inside the newly renamed NAFC Reese Shaner memorial cage. Osbourne and his coaches, Tomes, Briones, and Matter were presented with a plaque honoring the memory of Wisconsin MMA pioneer Reese Shaner.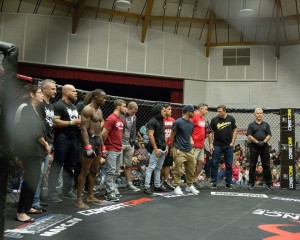 "All of this followed an amazing display of emotional fortitude by Ode "The Oddity" Osbourne, who somehow kept it together as he took to the cage three weeks to the day after losing his trainer, friend, father figure and coach. The performance he turned in was nothing short of spectacular amidst trying circumstances." Coach Tomes posted on Facebook a few days following the emotional evening.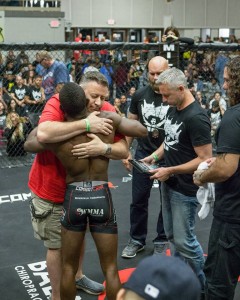 The event took place at the Waukesha County Expo Center, in Waukesha, WI. The atmosphere was reported to be extremely electric and vibrant as a sold out crowd bellowed in support of the home fighters.
Osbourne signed with Roufusport in Milwaukee to continue training. The humble 2-0 professional was greeted with overwhelming support by the Roufusport family, as UFC fighter's Chico Camus, Sergio Pettis, Dustin Ortiz, Erik Koch and Bellator's Emmanuel Sanchez congratulated Osbourne among many others. Osbourne's teammates at Roufusport are full of great mixed martial arts athletes and coaches which will elevate his career to the next level. It's only a matter of time before he is scooped up by one of the top tier promotions.
If you haven't attended an Ode "The Oddity" Osbourne bout, I suggest you do so before he leaps into a larger promotion. Osbourne has the raw talent and characteristics that make up a champion. The young MMA athlete has a great student-mentality, which translates to ever growing progression. He's an ambitious person that perseveres to the completion of goals. His personable attitude and great sense of humor makes him an easy guy to get along with and an even better teammate.
Osbourne's next bout is yet to be scheduled, but when it's announced, My MMA News will have the news of the rising stars next bout. Be sure to follow Ode "The Oddity" Osbourne on Instagram @Odeosbourne, on Facebook at Ode "The Oddity" Osbourne, and Twitter @OdeOsbourne.
Follow My MMA News on Social Media @MyMMANews for all of your mixed martial arts news.
Rest In Peace Vernon "Reese" Shaner (NAFC Hall Of Famer) – August 29, 1966 – August 22, 2015.
Photos Courtesy of BTH Photography.
ITB
Kyle Carroll is a Long Island, N.Y. native and avid MMA and amateur wrestling fan. He has been a part of the wrestling community for nearly 20 years. Carroll has six years of experience coaching high school wrestling. His father coached high school wrestling over 35 years, passing on his strong knowledge. Carroll has been reporting MMA news since January 2011. The former wrestler's coverage includes the 2012 U.S. Olympic Wrestling Team Trials, 2013 & 2016 NCAA D1 Wrestling Championship, and numerous MMA events (Bellator MMA, King of the Cage, North American Fighting Championship, and Glory).