Rare Blood Disorder Forces Paddy Holohan To Retire From MMA
Blood Disorders Forces Paddy Holohan To Retire From MMA
UFC flyweight Patrick "Paddy" Holohan announced his retirement today due to a rare blood clotting disorder that prevents him from competing in professional mixed martial arts. The 27-year-old competed five times in the Octagon, most recently headlining a card in his native Dublin in Oct. 2015.
UFC officials recently learned of Holohan's rare disorder, which wasn't disclosed until after his last fight. Subsequently, Holohan was advised by medical professionals to retire with his long-term health and safety in mind.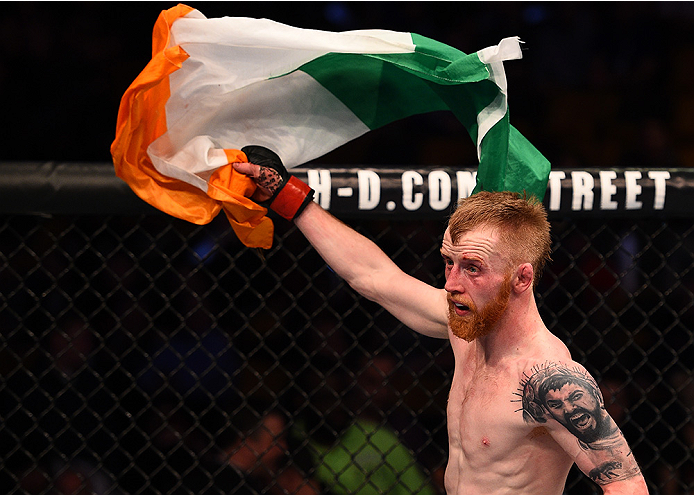 "I was born with a factor missing in my blood called Factor XIII," Holohan said. "I never disclosed it then or now. I can no longer pass the medical requirements to compete."
"I knew that it was so rare that organizations wouldn't understand or take the chance with me, as I have found out now," Holohan continued. "I never explained in full to my coach John Kavanagh or my team the actual risks because I didn't think there was excess risk."
A teammate of UFC featherweight champion Conor McGregor, Holohan became a fan favorite in the sport for his relentless pace and toughness inside the Octagon. While he admits that his decision to retire elicits mixed emotion, he understands that he must begin the transition to the next chapter in his career.
"I'm happy because I always wore my heart on my sleeve, never cheated, never turned away from diversity or challenges, and always strived to inspire and encourage people from all backgrounds," Holohan said.
"And I'm sad because I will never make that walk again, under those lights, feeling all those uncomfortable, yet life-giving feelings as they count and you hear 'Walk, walk, walk,' staring into a camera, knowing millions are watching, but most importantly the Irish are watching.
"Thanks to all of my team over the past nine years at SBG," Holohan added. "My coach John who backed me regardless when I had nothing but effort to offer him in payment, it's been an incredible journey for this council kid!
"To all the Irish people and people of my hometown of Tallaght who have always caught my falls and helped me back to my feet, I am forever grateful to the people who have backed me through thick and thin. This has made me the man I am today."
With Holohan's retirement, UFC officials are in the process of securing a new opponent for Willie Gates on the May 8 card in Rotterdam.
Follow MyMMANews.com on Social Media
The following two tabs change content below.
Founder of MyMMANews.com - After writing for Ultimate MMA magazine and serving as the editor for U.S. Combat Sports, both of which went on hiatus, I decided to venture out on my own and enlist a staff of writers and photographers that could help me achieve my goal of telling stories that would otherwise go untold. We pride ourselves in taking a deeper look into the fighter, and understanding what makes them tick. - #1 Dad, Marine Corps Veteran, 80's and 90's Pro Wrestling Fan, MMA Commentator, Beer Lover, and avid movie watcher. Seriously..... I watch a lot of movies.
Latest posts by Eric Kowal (see all)