Raquel "Lionheart" Pa'aluhi Prepares for Battle at Invicta FC 15
Raquel "Lionheart" Pa'aluhi Prepares for Battle at Invicta FC 15
By Bryanna "Pink Ranger" Fissori [author] [author_image timthumb='on']https://www.mymmanews.com/wp-content/uploads/2014/03/untitled.png[/author_image] [author_info]Bryanna "Pink Ranger" Fissori is a professional female fighter based in Honolulu, Hawaii. Fissori has been working as a professional journalist for well over a decade in a number of industries as a general reporter and legal analyst. Along with a mean left hook, she also has a law degree. Fissori trains out of the BJ Penn UFC Gym in Honolulu with Team Women of War and actively competes for top level promotions such as Bellator MMA and PANCRASE MMA in bantam and featherweight divisions. Follow me on Twitter @PinkRangerMMA[/author_info] [/author]

Less than a week away from fight night, Hawaii-born fighter Raquel "Lionheart" Pa'aluhi is preparing to step into the Invicta FC cage for the fourth time. Coming off a three-fight win-streak, she's looking to keep the momentum going straight to the top.
"Every time, the fight has gotten easier. Last fight I had a teammate corner me because my coach couldn't come and he was impressed with how calm I was," said Pa'alhui. "It hasn't always been like that. I think over time you start to stress less and the nerves aren't as high as they used to be. For me, I finally feel confident and comfortable in my skills and I just remind myself that this is what I absolutely love to do. And this is where I get to have fun and test my training and skills against someone else's. It has become seemingly stress less process since!"
Pa'ahlui's last bout was in April of 2015 at Invicta FC 12, where earned the unanimous decision against Ediane Gomes. She's had eight months of training since then to add to her arsenal.
"I started training with Dewey Cooper in January of last year. So when I fought, I'd only been training with him for about 25 sessions or so and that was geared toward preparing for the fight," said Pa'aluhi.
"Since then we've had nine months of learning. He has helped me with my counter punching, movement, defense, hand speed and so much more. In September we started adding 2 boxing days a week over at the Mayweather Boxing Club into my regiment. So sometimes I'm training five to six days a week on my striking with him. That has helped my fighting a lot. I feel like now I am mixing it up a lot more and see things more than I used to. I've also been training a lot of no gi. For the last couple of years I was training in the gi a lot which I believe helps your game! It doesn't hurt it. But training a lot more no gi has made me quicker and a lot more fluid and opened my game up a lot more! I'm seeing more things as apposed to in the gi which I have a slower pace in."
A Hawaii native, Pa'aluhi now resides in the MMA hub of Las Vegas, Nevada. The majority of her fights have been on the island of Oahu, but she will undoubtedly fight anyone, anywhere. She is that type of fighter.
"For me, home is wherever training is. Fighting is what I love most and at this point in my life, the only thing I truly care about. Being a better fighter than I was yesterday. So I'll adapt and do whatever I have to, to get there. Thankfully, Vegas has been an easy transition for me. The people here are amazing and the team I've settled with is second to none in my book. But I miss my family a lot and I miss the mountains and ocean for sure. I really draw from those things so sometimes going too long without them is not good for me. I'm really lucky I got to go home for Christmas to do my medical stuff because I was able to see my family and jump in the ocean. So I stole some mana to bring back for the last three weeks of camp."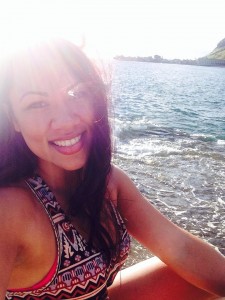 "I think it is not necessarily changes that were made [to the training regiment] but just settling here in Vegas with my team and coaches. Now we've been together for almost a year and a half in April as opposed to just six or seven months. I have a routine I like. They understand my game and what we need to build on and all of those things. I've also been a lot better about my diet the last 3/4 months so this weight cut has gone fairly smooth so far."
The most valuable training tool Pa'aluhi has is her team, which consists of partners and coaches that push and motivate her.
"I can't take all the credit for anything I've become. I just show up everyday ready to work and they do the rest for me," said Pa'aluhi. "If you look in my corner, between Dewey Cooper and Robert Drysdale there are at least 10 world championships combined. They're teaching is phenomenal and I'm really blessed to have such amazing coaches. And my team, they're all like coaches too. I've never met a group of people so willing to help. Everyday I have someone grabbing me to show me something or giving me feedback or asking if I want to come in early and drill or meet later to go over stuff. They are the key to my success as of late. I could train just as hard as I do now anywhere in the world but without them, I wouldn't be half as good."
Pa'aluhi is scheduled to fight Colleen Schneider, January 16 on Invicta FC 15. Schneider is an experienced bantamweight, who fought on Invicta FC 11 and other notable promotions including Strikeforce and Pancrase.
"Originally I was supposed to fight Irene Aldana but I don't know what happened with that fight. Colleen is a gamer," said Pa'aluhi. "She's like me, she'll fight whoever, whenever. That's the kind of people I want to fight so I was stoked."
The match-up has potential to be a fan favorite, with the combination of two well-rounded fighters.
"I really don't obsess over my opponents. I watch a little bit and I just continue to sharpen my tools. But, colleen is a different kind of fighter because she has tools everywhere. A lot of fighters are one dimensional or maybe even two-dimensional. But she has something everywhere. She has good striking, she can wrestle and she has a ground game as well. So she, like me, can take the fight anywhere and I think this is going to be exciting to test my skills against and for fans to watch."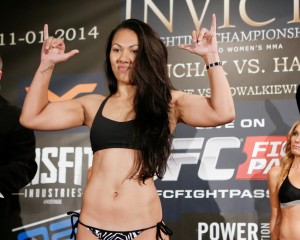 The fight is a bantamweight match up. After cutting weight through the holidays, which included a brief trip back home to the island, Pa'aluhi has shown some serious will power. Most fighters will agree that it is always difficult to cut throught the holidays.
"Very first thing is usually some berries and watermelon," said Pa'aluhi regarding her post-weigh-ins meal.  "But after that I do the pasta for carb loading! But if you want to know what's going down on Sunday, it's probably a burger. That's my favorite post fight meal! Somewhere with good sauces for their fries!"
Pa'aluhi is proud to be an Invicta FC fighter and looks forward to putting on a show for everyone there and those watching from home.
"Thank you! The support always means so much to me and I'm sure to everyone else. Invicta is growing at such a rapid rate and without people watching, talking about it (good or bad), hyping it up, demanding fights… We wouldn't have a job. So thank you!"
Pa'aluhi would also like to thank her sponsors:
Armed and Dangerous, ATH Organics, Nueve Salon, Farmers Market Hawaii, Beast Coast, Ivy Laser Salon, 3J's Nutrition, Colossal Castles and Hawaii Truck Parts
You can follow Raquel "Lionheart" Pa'aluhi on social media via:
Bryanna "Pink Ranger" Fissori is a professional female fighter based in Denver, Colorado. Fissori has been working as a professional journalist for well over a decade in a number of industries as a general reporter and legal analyst. Along with a mean left hook, she also has a law degree. Fissori trains out of Elevation Fight Team and has competed for top-level promotions such as Bellator MMA and PANCRASE MMA in bantam and featherweight divisions.