Rina Panchan: A Kickboxing torchbearer with a superhero mentality
Since its debut all the way back in 1986, Dragon Ball has been one of the most beloved anime series' of all time, if not the most beloved. Over the course of the show's many incarnations, several incredibly memorable characters have come and gone with some standing out more than others. In the case of a young Rina Okamoto, one character, in particular, stood out so much so that she earned a rather fitting nickname based on them.
In the series' universe, the beings known as "Saiyans" are among the strongest races in the galaxy. Even if you're completely unfamiliar with Dragon Ball, it's safe to assume that you've at least at some point seen the iconic main character, Goku, on which the primary saga is based around. Eventually, Goku has a son and his son has a daughter. That daughter being Pan who is not only the strongest of the extremely rare and few female Saiyans but most Saiyans in general.
Growing up, Okamoto was a big fan of Dragon Ball and found herself drawn to the female Saiyan. One day a friend would mention in a chat that Okamoto actually had similarities in her appearance to that of her favorite character from the series. So on her 20th birthday, Okamoto decided to start going primarily by the nickname of "Panchan" in honor of Pan. As this came prior to her involvement with combat sports, it would end up being about as fitting of a name as anyone could have given.
"Up until 16 years old, I was an athlete," Panchan told MyMMANews on BROADENED HORIZIN. "I was doing sports all my life and being competitive. But after I kind of stopped working out and playing sports at 16, I couldn't satisfy myself. Anything I would do wouldn't satisfy me and it was kind of boring—life became boring and stale. So I started getting myself back into sports at 19-20. And I knew that I needed sports in my life, I need to be involved in sports.
"When I came out to Tokyo at the age of 21, I got myself into athletic programs and that's when I was introduced to kickboxing. And at the age of 22, I joined this current gym I'm at right now and I decided to challenge the sport."
Participating in activities such as swimming along with track and field during her youth, Panchan would end up dropping out of high school to work part-time jobs. Thus leading to her involvement in the Japanese nightclub scene. And while many might really start their boozing and partying at age 21, that's when Panchan decided to go sober and was hit with the realization that she needed to rekindle the competitive spirit within herself.
In the meantime, she did some modeling. But it wasn't long until she found her home base that is now the Struggle Gym and established her passion for the art of the strike.
"For me, it was a great experience," Panchan said of her first encounter with kickboxing. "Up until that point, I would never be praised for anything. People wouldn't give me compliments on anything. So when I first started, people would praise me and compliment me for my abilities. They would be like, 'You're so good for your first time,' and people would make me feel good about it. So me being as simple of a person as I am, it felt good for my first time and that's how I started and I stuck with it.
"10 out of 10 people would say it's not that easy and they wouldn't take me serious. That includes my family. In the beginning, I didn't get any support. The opinions of my family have changed drastically [over time]. They fully support me now, they come to my fights, they cheer for me. Up until my third professional fight, they were mostly just like, 'Make sure you don't hurt yourself, don't get punched in the face,' that kind of support. But after a few fights, they fully cheer for me to go for the win. They want me to accomplish things and they back me 100 percent."
Rina Panchan's combat sports journey officially began in February 2019 and she's yet to taste defeat by winning all nine of her kickboxing fights since debuting professionally.
Even after starting to get into fighting, the now 26-year old has continued to model a bit but wasn't ever too serious about it. The same level of fulfillment just wasn't there. Though she fully gives great credit to the makeup artists for their talent and having to deal with the bumps and bruises.
At REBELS 67 this past month, Panchan scored her most recent victory in what was her first main event showcase. The 101-pound champion fought in a contest three pounds heavier than usual opposite the Knuckles Gym representative, Mari.
Despite the newer experiences, the Struggle Gym product didn't feel any pressure from the opportunity. Noting that her pro debut technically went last as a dark match of sorts. However, the desire to close out the show impressively was absolutely present in her mind this time around.
"Mari was a very experienced veteran," Panchan began. "She has over 35 professional fights under her belt, and the fight before that, I was able to prove that experience doesn't matter. So I wanted to make a bold statement for this fight going against a very experienced opponent. I was able to get the win but I wasn't able to knock her down and I wasn't able to finish the fight. So for me, those are the things that I have to work on and those are the things that I have to overcome in order to take my fight game to the next level."
Unfortunately for Panchan, the solid third victory of 2020 came with a price in the form of an injury to her right hand.
During the second round, she recalled punching and dislocating her finger in her glove. Continuing to fight through it, the damage worsened as the ligament that supports the joint muscle tore completely. The injury required surgery and Panchan is now on the mend expecting two months before she can hit pads hard again.
Hoping to fight as soon as possible, which she presumes to be in three months, it's led Panchan to try to learn more techniques with her feet as she sharpens all tools but her right hand.
"I'm the kind of fighter who gets into fight mode and I don't really feel things," she described. "So I do remember when I hurt my hand, but a few seconds after that, I don't really care, I don't really feel it. I don't think I was fighting with one hand, I was fighting with everything I had. So I don't really think I fought with an injured hand. That's just how I fight."
Reminiscent of her animated superhero counterpart, in a very short amount of time, Panchan has become a notable and impactful figure in her realm of expertise. Having several goals and heights to hopefully reach in mind, the possibility for when and how they can be met is seemingly unknown.
The women's side of the kickboxing sphere is practically equivalent to that of boxing. Globally, the kick-including variant just so happens to be significantly less popular pertaining to both genders. The women of the sport and the few competing are virtually unknown even among the most hardcore combat sports fans. Even the most popular of them all in Panchan recognizes this and sees the problem with it.
Just like the unexpectedly strong little Pan, Rina Okamoto finds herself fighting an uphill battle to prove many a doubter just what she's capable of.
"At first, I was just doing this because I like it," Panchan expressed. "I was doing it for myself. But as my professional career grows, I do hear so many voices. The reality that I run into is that women's kickboxing is not known whatsoever. I do think that I am the most, I wouldn't say famous, but the fighter that makes the most noise or attention in women's kickboxing. But the fact that I'm only a year and a half, maybe two years into my professional career, and a fighter with such a young career is taking the spotlight, I think there's an issue right there. So it's very disappointing to see the unpopularity and how not known women's kickboxing is in Japan. It's just very disappointing.
"I think my goal is to make more noise and grab more attention for myself which will eventually shed light on the entire women's kickboxing scene. So right now my goal is to be that person to be desired, and I hope my existence will force RIZIN to open up their women's kickboxing division so that I can fight in their big ring and get more exposure for the women who are all competing in kickboxing."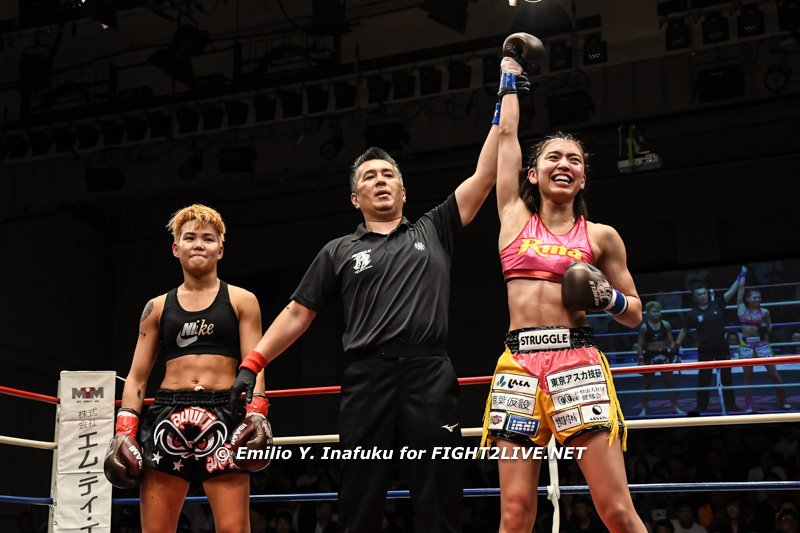 Regarding the combat sports scene in Japan, it doesn't get much bigger than the stage provided by the RIZIN Fighting Federation. An organization that features some of the very best talents in the world that MMA and kickboxing have to offer.
Ideally, with a better performance accompanied by a clean bill of health, Panchan planned to ask for a spot on the big RIZIN 2020 New Year's Eve show following the fight with Mari. But neither of those played out properly and left the atomweight waiting as she took it as a sign of her skills requiring additional honing to put on more convincing displays.
Assuming that Rina Panchan could make that dream come true by fighting for RIZIN at some point, she would make history by being one half of the promotion's first-ever women's kickboxing match. A feat that would truly be a large step in the right direction but one that's sustainability remains sizably unproven.
Though, there is always a different available route to take for someone like Panchan… And it's a route that many strikers alike have taken in the past to varying degrees of success. But in her current position, it would admittedly be a bit of a selfish and rushed move as the former model feels obligated to herself and her sport to lead everyone into the light out of their deep cavern.
"I'm not thinking about MMA at the moment," Panchan revealed. "Because I know that MMA is not that easy of a sport and I'm not taking it lightly. If I were to challenge MMA, I have to be the best at what I do and I need to prove that I am the best at what I do, for now, then challenge in MMA. So right now I think my goal is to become a fighter known and a fighter to be desired to be able to fight in my rules in the RIZIN ring. That's my goal for now.
"[A fighter like] Rena [Kubota] is definitely inspiring. She wows me every time. Especially after the fact that she only trained like six months to a year before making the transition. So she's very inspiring to me. But on the other hand, she's already accomplished everything in what she does. She's fought everybody, she doesn't have any more opponents, she doesn't have any leftover business so I think it was the right timing for her to make that transition. But for me, there's still so many opponents that I want to fight. There's so many beefs that I need to squash, so I do think that I have to do everything I can in what I do.
"The thing is, for me, whatever I compete in, in any sport, I go for No. 1," she continued. "I want to be No. 1 in the world. The best at what I do. That's my mentality as of now and I'm not thinking of going to MMA at the moment."
Ultimately, Panchan looks to save a world of kickboxing by showing that it deserves a chance. And whether or not she succeeds in bringing it to any forefront of the martial arts landscape, all she can do is persistently fight like a Saiyan to breakthrough.
BROADENED HORIZIN EP. 5 AUDIO ONLY BELOW:
以下の日本語版 (JAPANESE VERSION BELOW):
Drake is an MMA writer based out of Brush Prairie, Washington, USA who specializes in feature pieces, the women's fight scene, lists, news coverage, and rankings. He has been a passionate fan of MMA ever since 2009. Drake has most notably written for BJPenn.com, FanSided, The Body Lock, South China Morning Post, MyMMANews, WhatCulture, Cageside Press, Sherdog, The Scrap, and MMA Today. He has also written for and created video content for RT Sport. As for other sports, Drake is a longtime fan of the NFL's Green Bay Packers and Jacksonville Jaguars.
You can follow him on Twitter and Instagram: @DrakeRiggs_ . Also check out all of his video content on YouTube at YouTube.com/DrakeRiggs where he uploads fighter interviews, podshows, and various other types of content.