Taking the Stage: How a love for combat led Seo Hee Ham to a rare career
"I can confidently say this; I never said no to any fighter."
South Korea's Seo Hee Ham didn't always want to be a professional fighter. In fact, she intended to be a soldier as an adult. Instead of fighting for her country, she's gone onto represent it proudly with a neatly crafted legacy as an all-time great athlete.
Around 2004 Ham would enroll in Taekwondo at the gym near her home. She quickly discovered that the gym wasn't solely focused on one art but taught the likes of kickboxing, Muay Thai, and MMA itself. Beginning with Taekwondo, Ham honed her skills enough to eventually impress the gym's owner so much that he told her she was capable of doing anything she wanted in combat sports.
To begin her MMA career, she was given that opportunity to a greater effect than many ever dream of – more often than not, for good reason.
Within Ham's first three years as a professional mixed martial artist, she was tasked with a handful of the atomweight and strawweight division's most pivotal founders. It all began with her February 2007 debut against Japan's Hisae Watanabe.
At the time, it was clearly problematic matchmaking and supposed to be a walk in the park for the 17-4 Watanabe. Known as the most devastating knockout artist in the history of the 105-pound weight class, Watanabe entered in fresh off of her biggest career win in arguably what is still the division's biggest fight.
In a way, Ham's ignorance was truly bliss. Still completely new to MMA, the Taekwondo specialist had nothing to fear and everything to gain – and she did just that.
Korea's finest pulled off what is possibly the most underappreciated upset ever seen in MMA. Earning the unanimous decision nod, Ham went on to face even more iconic figures like Miku Matsumoto directly after, Yuka Tsuji, and even Megumi Fujii.
"I wasn't really surprised because I went there to win," Ham told MyMMANews on BROADENED HORIZIN of her debut. "But I was very happy. That's the time in my career where I didn't know what MMA really was. It was MMA and I didn't even know what 'M' was. That's the time. But I was happy because I was able to travel and experience some new things in my life and win the fight so it was a good and happy experience for me.
"Every fight is a hard fight. I don't believe there's an easy fight out there. This is MMA, this is a fight where you will only know what's going to happen when you actually go inside that ring or cage or circle against your opponent. That's what I did. I went in there and I didn't care about their name, record, nothing like that. It was just a fighter vs. fighter, human being vs. human being, and it is just what it is. So maybe that's why I came all the way up until now, I'm not sure."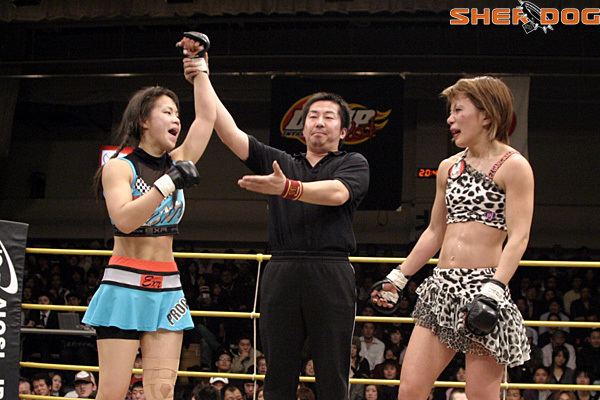 At present, Seo Hee Ham holds a 23-8 record that sees her unbeaten south of 115-pounds. The last time fans were treated to a "Hamderlei" performance came at the legendary RIZIN 20 event which capped off 2019. In addition to finishing off the year, it was a massive milestone and hump overcame for the now-34-year-old as she defeated her fiercest rival.
RIZIN's first atomweight titleholder was a fellow legend, Ayaka Hamasaki, who already had two wins over Ham from earlier on in their illustrious careers. With Ham looking better than ever post-UFC, she'd run the table by putting together a five-fight winning streak consisting of four knockouts of some of the division's very best.
The trilogy bout between the undeniable two best fighters their weight had ever seen was unsurprisingly an instant classic as it culminated at each of their peaks. In the end, Ham achieved her redemption and most recent world title in a razor-thin affair via split decision.
"The only thing I can say is I treat all my fights the same and I'm never satisfied with my fights ever," Ham said regarding whether or not the Hamasaki win was the most satisfying of her career. "I always wanted to do more and I always wanted to be better than that. So I cannot say that that was the most satisfying win for me, it was just another fight in my career and it was just one of the fights from all of my fights. But it's true that it was a fight in a very new promotion, a very new stage, it was basically still new for me. It was a good experience that I finally beat her, yes, but it was not the most satisfying win or anything like that.
"In RIZIN, I love Japan. So that was good. Because it's the biggest organization in Japan, I always wanted to experience the stage there and I cannot say anything bad about it. It was a very good experience."
Starting with the historic DEEP promotion, to SmackGirl, Jewels, South Korea's ROAD FC, and even the UFC, Ham has been there and done that in her weight classes. Despite capturing the RIZIN crown in her last time out, yet another change of scenery has come to fruition.
Ham is 12-0 since 2011 excluding her UFC run with her current form being unquestionably her best. The Gangwon Province native will now carry her six-fight winning streak over to ONE Championship accompanied by a boatload of experience.
"It's very simple. After experiencing the UFC, I learned that there's nothing to be scared of. That's what made the difference," she began.
"I've experienced a lot of promotions and I can say that every promotion is very different. They have their own style, you know? But if you look at my career, every time I sign with that new organization, it was when that organization was on the peak or when they had the most spotlight for that division. Like right now ONE Championship and atomweight, I believe ONE Championship atomweight is the deepest, it has the most spotlight. So every time I move to that organization, I believe that organization had the most spotlight, it was the hottest for my weight.
"When signing with a new promotion, I don't treat it the same, I tried to soak everything in."
Things will be new in certain ways for Ham but familiar in others. Entering into ONE, Ham will do so as a participant in their eight-woman world atomweight Grand Prix tournament that will decide the next challenger for current champion Angela Lee.
In Ham's 14-year career, she's fought every year except for 2020 thus making it her longest layoff. Although that wasn't the plan, Ham has used the extra time to her advantage by doing some things she might not have been able to while she's been so consistently active. But there's still been plenty of development done in preparation for the return.
Ham competed at 115-pounds as a strawweight in the UFC which is the same weight she'll be returning to in ONE's atomweight division. With three losses to only one victory in that stint against the likes of all current 125-pound flyweights, Bec Rawlings, Cortney Casey, and Joanne Calderwood, Ham has looked to make a significant physical change for this final run of her storied career.
"I can say that I'm excited, but that word might not be right," she said. "It's like when you meet your loved one or someone, it's how your heart is pumping, right? That's how I'm feeling right now. This is my debut in ONE Championship… and my debut is for the Grand Prix. This women's Grand Prix is the first time in the history of ONE Championship so it's something very new.
"[Gaining muscle] is something that I planned on. After signing with ONE Championship, and after getting my date for the debut, I already knew that I would be fighting somebody bigger than me. So what I did was purposefully made my body bigger. Then I packed on more muscle so that my opponents don't out-strength me. It was planned and I think my plan is going well.
"During my time in the UFC, I tried to make my body bigger but I failed every time," Ham added. "My normal walking weight never increased. It stayed the same, I don't know why. But when preparing for ONE Championship, I changed my method and my body started getting bigger and my walk-around weight is a lot heavier than my usual walk-around weight. Because of that, I'm very confident that I'm going to be a different Seo Hee Ham than when I was in the UFC."
Ham will need to defeat three of the best fighters ONE has to offer at 115 to face "The Unstoppable" Lee – a fight that she very well could have gotten immediately upon arrival. It all kicks off with the unbeaten 9-0 Denice Zamboanga for Ham – it's just a matter of when as COVID-19 has postponed the original May 28 fight date.
Already viewed by many as the greatest fighter from her country and arguably at 105-pound atomweight, saying Seo Hee Ham would cement her legend status by capturing ONE gold is an understatement… but don't think for a second that she'll feel that very same way.
"In my whole career, I never really expected any result or I never said that I'm gonna do this or that," Ham said. "I just try my best in that circle or cage, you know? But for this fight, my preparation went so well. For the first time, I can say that I would like to knock her out. Most people know that I'm a fighter who likes to go until the end. Like if it's a five-round fight or three rounds, it doesn't matter. I like to use all that time. I like to go the distance. But for this fight, I don't know why, I really cannot explain because I also don't know. I really want to finish her, I want to knock her out.
"I never once in my life have thought that I'm a legend. To be honest, I believe that there are so many fighters out there who are better than me. It's just that they never got an opportunity to fight me yet. There are also fighters who are way more talented than me who haven't made their debut yet. That's what I think. I've just been in the sport a long time and have just been fortunate to have a lot of fights. It's true that most of the fights went well, the results were good. But I don't think that I'm a legend. I've never thought about that.
"I'm just happy that I've been able to continue in the sport and if I feel there's a new challenge for me, like ONE Championship right now, I believe that this was a new stage to challenge myself," she continued. "I'm just fortunate that I'm able to do what I love and trying to experience as much as possible until I can't anymore."
BROADENED HORIZIN Ep. 8 ENGLISH AUDIO BELOW:
以下の日本語版 (JAPANESE VERSION BELOW):
Drake is an MMA writer based out of Brush Prairie, Washington, USA who specializes in feature pieces, the women's fight scene, lists, news coverage, and rankings. He has been a passionate fan of MMA ever since 2009. Drake has most notably written for BJPenn.com, FanSided, The Body Lock, South China Morning Post, MyMMANews, WhatCulture, Cageside Press, Sherdog, The Scrap, and MMA Today. He has also written for and created video content for RT Sport. As for other sports, Drake is a longtime fan of the NFL's Green Bay Packers and Jacksonville Jaguars.
You can follow him on Twitter and Instagram: @DrakeRiggs_ . Also check out all of his video content on YouTube at YouTube.com/DrakeRiggs where he uploads fighter interviews, podshows, and various other types of content.