UFC 198 Fabricio Werdum vs Stipe Miocic Prediction
by Guest Author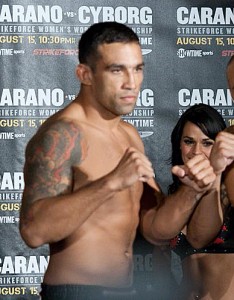 You can not take anything for granted in the world of mixed martial arts as there is no such thing as a "sure win." We have witnessed this first hand over the last few UFC main card events. There have been many shockers that have had the whole world talking about. When Ronda Rousey and Conor McGregor both lost in recent events, the world had never seen as much traffic about a mixed martial arts sporting event.
When Fabricio Werdum won the belt off Cain Velasquez at UFC 188, he was a huge betting outsider to win. He knows from experience that anything can happen inside the Octagon and will not be making big predictions for UFC 198.
Werdum was due to face Velasquez for a rematch in February but his opponent pull out due to injury. Stipe Miocic was lined up as a replacement. However, Werdum decided against taking him on at short notice. That decision led to him been heavily criticized online by fans worldwide.
Werdum was forced to defend himself and spoke to the media about the situation.
"I was criticized by some fans, but it was mostly people talking nonsense, saying I was scared of Miocic, I have fought for 18 years. Why would I be afraid of Miocic?" Werdum asked.
At UFC 198, Werdum will want to silence his critics by putting on a dominant displace and dispel any rumors that he is afraid to fight anyone.
Werdum will be fighting in his home country and will have the full support of the crowd behind him. He is the hot favorite to keep the title, but he will not be taking anything for granted against the dangerous Miocic.
One of the biggest mistakes a fighter can make is underestimating their opponents. Many fight fans believe that is the reason both Ronda Rousey and Conor McGregor lost their most recent fights. They thought that they could walk through their opponents due to their earlier easy fights, which was a huge mistake and cost them everything.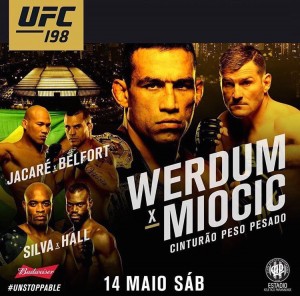 Miocic is a fighter that has knockout power and can take a punch. His epic blood bath five-round battle against Junior dos Santos will live long in the memory. He is a great finisher which he showed against Fabio Maldonado, Mark Hunt and Andrei Arlovski. Many MMA sites offering betting tips for UFC 198 are advising their readers to put money on Miocic. If past events are anything to go by, it is worth backing the underdog. Over the last couple of headline events, you would have made a fortune by putting money on the underdog.
Who will win at UFC 198: Fabricio Werdum vs Stipe Miocic?
Werdum is at the top of his game and is on a six-win streak in the UFC. During that time, he has managed two submission and two KO victories including the guillotine choke he used to take the title against Velasquez. It is hard to make UFC 198 predictions for which fighter will win. My betting tips for UFC 198 Fabricio Werdum Vs. Stipe Miocic is the Brazilian winning by submission in the third round.
UFC 198 will be held May 14, 2016 at Arena da Baixada in Curitiba, Brazil.