Weidman to have surgery on herniated discs in neck, Wednesday
Weidman to have surgery on herniated discs in neck, Wednesday

On May 18, former UFC middleweight champion Chris Weidman pulled out of the UFC 199 main event, scheduled for tomorrow against Luke Rockhold.  Weidman cited herniated discs in his neck as the reason for removal from the bout which prompted Michael Bisping to step up in his place.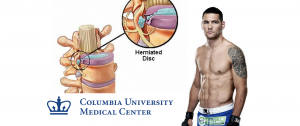 Dr. K. Daniel Riew will perform the surgery at Columbia University Medical Center on Wednesday in Manhattan, New York.
Doctors will drill a small hole in the front of his neck through his vertebrae and scoop out the herniation.
"I've had so many surgeries, but this one kind of skeeves me out" said Weidman, at a meet and greet at Modell's in Times Square. "My neck. Going in through the front my neck, it just bothers me. When I had the epidural, I was miserable, man. They went through my back and I could hear this thick needle going through my muscle. This whole neck thing is bothering me. I can't believe I'm getting neck surgery."
"My neck, it was just . . . " Weidman said. "Oh my God. The pain, it just took everything out of me."
According to Newsday: "Doctors expect to be able to tell right away if the procedure was a success based on the pain level in his neck and the return of strength in his left triceps. 'I should be able to throw him off me,' Weidman said before demonstrating the difference of strength in his right arm compared with his left arm at this moment. It is considerable.
If it is a success, Weidman could resume lower-body strength and conditioning right away and then upper-body work in about four weeks. Weidman added that if it is not a success, doctors then would perform a different surgery on the herniated discs in his neck."
Follow MyMMANews.com on Social Media
The following two tabs change content below.
Founder of MyMMANews.com - After writing for Ultimate MMA magazine and serving as the editor for U.S. Combat Sports, both of which went on hiatus, I decided to venture out on my own and enlist a staff of writers and photographers that could help me achieve my goal of telling stories that would otherwise go untold. We pride ourselves in taking a deeper look into the fighter, and understanding what makes them tick. - #1 Dad, Marine Corps Veteran, 80's and 90's Pro Wrestling Fan, MMA Commentator, Beer Lover, and avid movie watcher. Seriously..... I watch a lot of movies.
Latest posts by Eric Kowal (see all)