UFC lightweight prospect and CityKickBoxing protege Brad Riddell picked up his third straight promotional victory this past weekend at UFC 253, and over a talented opponent in Alex da Silva.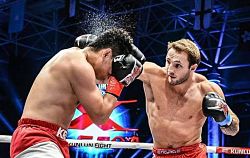 Riddell just turned 29-years-old just yesterday, four days after his fight, and he's shown us he's a serious threat in the short time he's been with the promotion.
This has a lot to do with his extensive, and incredibly successful kickboxing background.
He started his combat sports career out in the art, and compiled a 59-8 record, winning numerous world championships including WBKF World Kickboxing Champion, New Zealand WMC Champion, and a Commonwealth Middleweight Champion.
Those were just the titles he held once he came over to mixed martial arts. He continued kickboxing through his first few mixed martial arts fights, but is now solely focused on MMA.
Riddell improved his mixed martial arts record to 9-1 (3-0 UFC) with his victory on Saturday, and over a 24-year-old opponent that had 17 first-round finishes in 21 wins.
Alex da Silva was winning the exchanges earlier on, but once Riddell found his range, he found his range and took the fight over.
After three straight victories in three straight UFC appearances, what's next for Brad Riddell? His division is literally the most stacked in the entirety of combat sports, not just the UFC, not just in general, but in all of combat sports. There are a ton of options.
Now that he's defeated the 12-2 Jamie Mullarkey, the 15-2 Magomed Mustafaev, and the 21-2 Alex da Silva, he's certainly ready for a step up. Mustafaev is the most dangerous, and perhaps the best fighter out of those opponents, and Riddell was able to squeak by him via split decision.
Too bad the 8-1 Rafael Fiziev is booked against Renato Moicano for late November, that'd be an incredible fight. Fiziev is the man that just handily dispatched of Marc Diakiese, and he has a 39-8 professional kickboxing record of his own. Perhaps some day we'll get to see these two go at it.
There's also the 8-2 David Teymur, who though hasn't fought since his defeat to Charles Oliveira back in February of 2019, he'd make for a very interesting fight with Riddell. Teymur's 39-1 in professional kickboxing, and is a bronze medalist at the Muay Thai World Championships, along with many regional and world titles.
The 12-3 Nasrat Haqparast also makes for a good fight with Riddell. He doesn't have a background in kickboxing, but he is a great striker and almost always impresses us with his performances. Haqparast is 4-2 in the UFC thus far, that'd be a fun match up.
Lastly is the 17-7 John Makdessi, who's coming off a defeat to Francisco Trinaldo, but was on a three-fight win streak prior to that defeat in March. Makdessi would by far be the most experienced mixed martial artist Riddell's ever fought, but he's also 22-0 in professional kickboxing with black belts in Taekwondo and Shotokan Karate.
Eventually the UFC will have to start giving him top talents if he continues winning, but for now, why not have him fight other strikers? It's always a great time watching two striking experts in an MMA fight.
No matter who the UFC decides to give Riddell next, it's a sure thing it'll be a great fight. This dude comes to fight, every single time, and he has a ton of skill and grit. It'll be fun to see what direction they take him in.
What's next for UFC lightweight prospect Brad Riddell?
I became a fan of combat sports when I was 12 years old. I was scrolling through the channels and landed upon versus, where WEC was televised. Urijah Faber fought Jens Pulver for the second time that night. That's the first fight I saw, and the fight that got me hooked on the sport. Since then, the sport has grown so rapidly, and my goal is to enlighten everyone on what's going on in the sport today.