WSOF 31: Devin Powell Talks Promotional Debut against Tom Marcellino
WSOF 31: Devin Powell Talks Promotional Debut against Tom Marcellino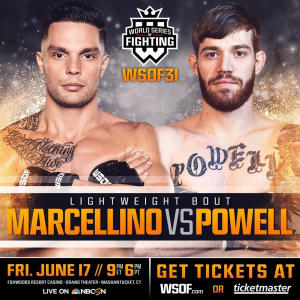 June 17 is shaping to be another blockbuster success for the World Series of Fighting. Making their return to the east coast, WSOF 31 emanates from the Foxwoods Casino in Mashantucket, Connecticut airing live on FITE TV.
Holding nothing back this event features a stacked card of highly anticipated confrontations and also introduces a stable of rising stars looking to cement their name in the sport.
Making his promotional debut on marquee comes (6-1) Nostos MMA/ Port City BJJ prospect Devin Powell. A rising star out of the New England fight scene, Powell is riding high off a four-fight win-streak and recent conquest becoming the NEF Lightweight Champion. Looking to continue his momentum unto the big stage Powell squares off against (7-4) Tom Marcelino at WSOF 31 in what promises to be a must watch lightweight battle fight fans don't want to miss.
We here at MYMMANEWS.com  got the opportunity to talk with Powell as he shares with us his rise out of obscurity to his upcoming fight on June 17.
Everything has a source of origin. What inspired you to become a Mixed Martial Arts fighter? 
Powell: "I used to be passionate about music and after high school that all ended and I became complicit at a desk job at a Passport Center and really hated doing that every day. So I sought out something I could be passionate about again.I started doing all the classes and feel in love immediately with BJJ and MMA."
How would you describe your initial start in MMA?
Powell: "My initial start in MMA was at Seacoast BJJ and MMA where I fought for the first time after a few years for the league, GFL. I fought a blue belt from Renzo Gracie Academy and I lost a split decision that wrecked me. But I came back and I continued to push and here we are now."
You have accumulated an impressive win-loss record. Through your countless victories and  few losses what have you taken away from those fights overall?
Powell: "As you get further into this sport the wins satisfy you shorter and shorter periods of time usually a win can keep you excited and you can talk about it for several months and it's just this cool thing but after you are at it for a while after you win a fight you are immediately waking up thinking what is the next thing where do I go from here. After I won the NEF title in Lewiston, Maine, I already had a contract to fight for WSOF it's kind of a snowball effect it starts slow but then it gets big and it's an insane amount of momentum behind it the lose though are what haunt you forever I still remember my first amateur lost like it was yesterday and my only loss which was a decision as a pro as well."
Just recently you accomplished a remarkable feat in your fight career becoming the NEF (New England Fights) Lightweight Champion. Reflecting back to when you started MMA why was this a defying moment for you?
Powell: "When it comes down to it, a win is a win; having a title behind it is just icing on the cake. It's very nice to have something that shows you belong with the rest of the top fighters in the northeast. And it also is a great addition to the academy that I own, Nostos MMA. You want to make sure you are training with talented coaches and a title is something that someone sees and just is drawn to like a moth to a flame." 
Your work has been highly recognized throughout the New England fight scene. Taking it to the next level you recently joined the ranks of the World Series of Fighting. How does it feel making this big break in your career?
Powell: "It feels incredible to be able to fight for one of the biggest organizations in the world. I feel like I have all the talent to be with those big shots I just haven't had the platform until now to show case my skills and I am very eager to showcase everything I am capable of."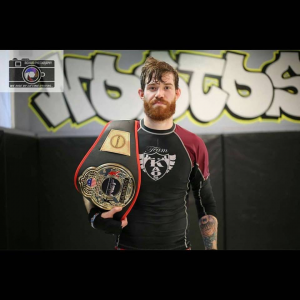 The WSOF lightweight is a stacked roaster of elite talent. What do you feel separates you from the competition in your division?
Powell: "I think I am a far different fighter than the majority that you see. A lot of the fighters are relatively flat-footed, orthodox fighters that train MMA and have decent submission games but I feel like I am very dangerous on the ground and on my feet with my vary unorthodox fighting style movement and length at 155, I think it's a hard puzzle to crack and I am excited to prove that to be true on June 17."
Speaking of June 17, you will be making your company debut against Tom Marcellino at WSOF 31. How do you feel you match up with your opponent Marcellino?
Powell: "I feel I match up with Marcellino very well he is a tough dude who has fought some really good guys but I don't think he has the tools to put me away he has a pretty good submission game and his stand up is alright but I think I am going to be very hard to get a hold of in this fight. He comes from a great academy with but I am excited to show Port City Brazilian Jiu-Jitsu is a real dangerous group of guys and my own mixed martial arts academy Nostos MMA is also one to take note of for the future."
How has your training been going for the upcoming bout against Marcellino ?
Powell: "Fight preparation has been great for this fight my last couple of fights I have been pretty banged up and I am feeling much better going through this camp it's my third fight going back to back to back without breaks and I feel like I am peaking perfectly. I have been training with some great guys at my academy and Port City BJJ and some guys from CMBJJ and some awesome fighters that cross train at New England Combat who are all fighting the week before me for CES so I am getting tons of different looks with great sparing partners and BJJ guys and awesome pad feeders everything is going very smoothly."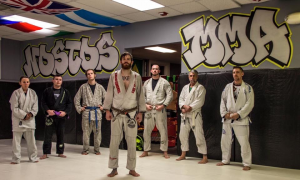 What does walking away with a victory mean to you going into this fight?
Powell: "Winning this fight is everything I worked incredible hard for almost a decade to get a shot at the big leagues and you never know if your first will be your last and I want to prove that a kid from Maine deserves to be on there alongside all of the top guys in the world to walk away without a win will be devastating and I am not willing to let that happen.The future is never set in stone I am taking it one fight at a time and I am completely invested in beating Tom Marcellino, June 17. After that happens I am going to enjoy some time with my family rest my body after three really hard fight camps and I'll get back to the grind stone and pick what's next." 
Finally for those that don't know you what will fight fans be in store for  at WSOF 31
Powell: "If you haven't seen me fight yet, expect the unexpected I come at my opponents from odd angles. I throw unorthodox shots.  I have a lot of different looks on the ground and on my feet I like to finish all of my fights. My last three fights I have left my opponents with stitches in their face, one with a broken orbital and a broken nose, and I've won four straight at this point. I think that I have a style that doesn't lean towards points scoring or winning decision. I always go for a finish everywhere I'm at. I never look to be in a boring fight and it always leans towards a fight of the night if ever available in the league I compete in." 
Devin Powell Special Thanks : Shout out to all of my sponsors who are helping me through these fight camps and to my teammates at Port City BJJ and Nostos MMA, and to all those who have invited me down to train with you at New England Combat Mass Brazilian Jiu-Jitsu, CMBJJ and many others."