Watch: Bellator 155 Preliminary Bouts – 7pm EST
Bellator 155: Carvalho vs. Manhoef takes place tonight at the CenturyLink Arena, with the event airing LIVE and FREE on SPIKE at 9 p.m. EST/8 p.m. CT.  Preliminary bouts can be streamed here beginning at 7 p.m. EST.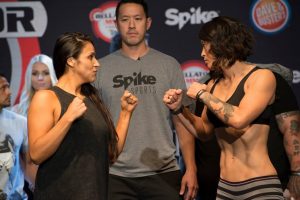 Middleweight champion Rafael Carvalho (12-1) will defend his title against Dutch striking ace Melvin Manhoef (30-12-1) in the main event of a fantastic night of fights that also includes a co-main event between Pat Curran (21-7) and Georgi Karakhanyan (24-5-1), who square off in a featherweight scrap that has future title-shot implications written all over it. The main card also includes a women's catchweight showdown between slick Dutch veteran Marloes Coenen (23-6) and Alexis Dufresne (5-2). Dufresne, who returns to action after a recent pregnancy and on short notice, missed the 146-pound weight limit, but the fight will proceed as planned.
Bellator 155: Carvalho vs. Manhoef will also feature a duo of heavyweight matchups with Joey Beltran (17-12) challenging Chase Gormley (12-5) and Dan Charles (20-3) looking to put an end to Augusto Sakai's (9-0) unblemished record.
An undercard bout between Ricky Steele (5-0) and Eric Cronkhite (2-1) was cancelled when Cronkhite missed weight by nine pounds.
WATCH PRELIMINARY BOUTS HERE:
Main Card: (Live on SPIKE – 9 p.m. ET/8:00 p.m. CT)
Bellator MMA Middleweight World Title Fight: Rafael Carvalho vs. Melvin Manhoef
Bellator MMA Featherweight Co-Main Event: Pat Curran vs. Georgi Karakhanyan
Bellator MMA Heavyweight Feature Bout: Dan Charles vs. Augusto Sakai
Bellator MMA Catchweight Feature Bout: Marloes Coenen vs. Alexis Dufresne
Bellator MMA Heavyweight Feature Bout: Joey Beltran vs. Chase Gormley
Preliminary Card: (Bellator.com – 7:00 p.m. ET/6:00 p.m. CT)
Bellator MMA Bantamweight Preliminary Bout: Tyler Freeland vs. Joe Hamilton
Bellator MMA Lightweight Preliminary Bout: Dave Jansen vs. Marcin Held
Bellator MMA Flyweight Preliminary Bout: Veta Arteaga vs. Jackie Vandenburgh
Bellator MMA Featherweight Preliminary Bout: Hamilton Ash vs. Vince Morales
Bellator MMA Bantamweight Preliminary Bout: Brendon Raftery vs. Casey Johnson
Bellator MMA Lightweight Preliminary Bout: Scott Thometz vs. Josh Tyler
Bellator MMA Middleweight Preliminary Bout: Sean Powers vs. Will Noland
Bellator MMA Bantamweight Preliminary Bout: Jesse Brock vs. Olly Bradstreet