Bellator and UFC statements on Kimbo Slice passing
Bellator and UFC statements on Kimbo Slice passing

Following the unfortunate passing of Kevin Ferguson, AKA Kimbo Slice, yesterday, Bellator MMA and the UFC have offered statements surrounding the fighter's death.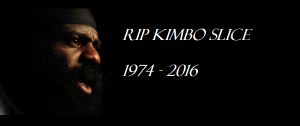 "We are all shocked and saddened by the devastating and untimely loss of Kimbo Slice, a beloved member of the Bellator family.  One of the most popular MMA fighters ever,  Kimbo was a charismatic, larger-than-life personality that transcended the sport.
Outside of the cage he was a friendly, gentle giant and a devoted family man. His loss leaves us all with extremely heavy hearts, and our thoughts and prayers are with the entire Ferguson family and all of Kimbo's friends, fans, and teammates."
"UFC is saddened to learn of the passing of Kevin Ferguson, known to fans around the world as Kimbo Slice.
Slice will forever be a part of UFC history as a contestant on season 10 of The Ultimate Fighter in 2009, and for having fought twice inside the Octagon at The Ultimate Fighter Finale and UFC 113. He carried himself as a true professional during his time in our organization.
While he will never be forgotten for his fighting style and transcendent image, Slice will also be remembered for his warm personality and commitment to his family and friends.
UFC offers its sincere condolences to Slice's family, friends and teammates at American Top Team."