Chad Robichaux Talks Pro Jiu-jitsu Match at Fight to Win Pro 5
Chad Robichaux Talks Pro Jiu-jitsu Match at Fight to Win Pro 5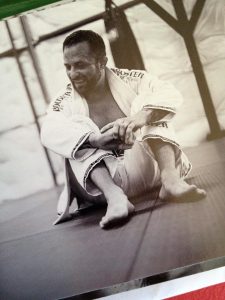 With its recent emergence on the West Coast showcasing professional jiu-jitsu on a grand platform "Fight To Win Pro" has taken the grappling world by storm. The show's fight card features some of the elite rising and World Class talents of Brazilian Jiu-jitsu today. The event also features contestants from the MMA world looking to showcase their grappling skills on this premiere fight stage.
2013 marked a turning point in the career of Chad "Robo" Robichaux. After more than a decade long venture, Robo announced his retirement from professional Mixed Martial Arts. Hanging up the gloves, his departure from MMA did not deteriorate his passion for competing as there have been multiple sightings of the Force Recon Marine Corps Veteran combating in BJJ tournaments across Southern California.
Robo looks to continue this inspiring momentum going into his next big grappling challenge. Robichaux will be back in one on one action under the bright lights of "Fight to Win Pro 5" in San Diego, California as he takes on Dean Lister Black belt/ EBI Veteran Geoff Real.
MYMMANEWS had a chance to catch up with "Robo" as he seems very enthusiastic about the upcoming challenge ahead on May 7.
Retiring from Mixed Martial Arts fighting, how has life been for you after your departure from the sport?
Robichaux : "I am a competitor; it was not easy for me when I made the decision to hang up the gloves. When you are a true competitor it is never a good time to walk away, you either win and you get bigger opportunities or lose and feel compelled to redeem yourself. For me, I felt like I walked away two years ago, it was at a moment when I was back at my very best and coming off two big finishes wins in Legacy FC over UFC Vet Joseph Sandoval, and at WSOF over undefeated Andrew Yates. However, I had to make a decision coming to a crossroads between two passions, my love for MMA competition and my passion to give my 100% to my work at Mighty Oaks Warrior Foundation serving my fellow warfighters. In 2011, I founded Mighty Oaks Foundation as a 501c3 non-profit ministry and it has grown quickly. We serve active duty military, Veterans, and spouses and since 2012 have 909 graduates.  I feel like a training camp for a fight would either take my focus off my work, or I would give my training the attention it needed to fight at the top level of the sport. I don't have any regrets however, I had a great run and truly love what I do now and know I'm exactly where God wants me to be in my life. My family and I are very content and I couldn't imagine doing anything more important with my time than investing in the lives or our military heroes."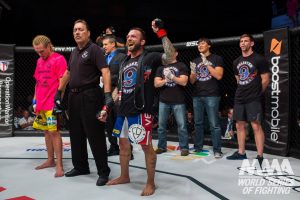 Although retired from MMA with your recent grappling tournaments sightings, what motivates you to continue competing in combat sports?
Robichaux : "Like I said, that competitive nature courses through my veins. I come from a lineage of competitors like my Professor, "Draculino", as well as so many team mates that get out there and put it on the line. I have eight Black Belts under me and they all compete; some are in the UFC, Bellator, and Legacy FC. When I decided to step away from MMA I knew I wanted to focus on BJJ Competition, but had to situation some things in my professional life before I could make the transition. I just bought a home in Temecula, California and have found a great team to train with at Carlson Gracie Temecula… at first it was a little strange being with a new team after being with Gracie Barra for so many years, but Draculino was supportive and was happy I found some great new teammates to take me in. Lots of good and tough black belts there; Professor Tom Cronin (who is also competing at F2WP5), Tino Martinez, Sean Ruiz, Jeff Gallegos, and a great staple of practitioners that I get to train hard with every day. That includes me getting to train with my two sons Hunter and Hayden. That event date on a calendar fuels me to work hard, so competition is good for me… its good for me on and off the mats. I've always been motivated by the next challenge, to compete and challenge myself…. The competition is never about the opponent to me, the entire training up to any event is a journey to improve myself mentally, physically, and for me spiritually."
How does competing in a BJJ tournament differ from for a fight in MMA ?
Robichaux : "MMA Camps are so different… When I train for an MMA fight it is almost like a full time job. You essentially are training at the pro level in multiple sports; boxing, Thai boxing, wrestling, BJJ, and fitness training… oh and the weight cut is a 24/7 focus. For BJJ I just train BJJ every day, drill BJJ, study BJJ and spar BJJ. It is much more focused."
Following up on this statement how has your MMA experience helped with your grappling tournament preparation?
Robichaux : "I definitely feel I've been a better well rounded MMA Fighter than a BJJ competitor, that was my focus for 16 years of competition MMA. With that comes habits and a style that isn't as strategically geared to BJJ as a "sport". However, the mental toughness and grit that comes from my MMA background is always something I lean on. I will be 1,000 mph bell to bell and always strive to break my opponent with pace, hard work and non-stop pressure; I don't know how to compete any other way."
On May 7th you will be competing at the "Fight to Win" grappling pro event. How did you get chosen for the card and thoughts on the opportunity competing in general?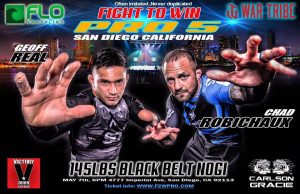 Robichaux : "I was so thrilled to get the opportunity. Seth and I have known each other through the sport for many years, and while I'm more known in MMA I am known there for my BJJ. As a StrikeForce, Bellator, Legacy FC, and WSOF Veteran I've fought and beat top pros amazing an 18-2 pro record with 17 submissions. I'm a BJJ guy and my performance in MMA has always showed that."
You will be up against Geoff Real in you grappling pro match. How are you training for the bout and what are your thoughts in regards to how you match against the EBI veteran?
Robichaux : "I think Geoff is a phenomenal black belt, the guy is an inspiration overcoming a lot of hardship and rising above it all to be a top competitor. He's legit and I have a lot of respect for him and his skills going into the match. He also comes from a strong camp with solid guys like Jeff Glover, Dean Lister, and one of my personal heroes in Jocko Willink. I know he is training hard and will be well prepared. Stylistically, I think we will put on one of the most exciting matches of the night because we are both fast scramblers… However, I am not really focusing on training for him or his style, I am just focusing on my game and plan to impose it and get a finish; I'm always looking for the finish."
Obviously like your MMA fights the goal is always to come out victorious. Aside from coming away with the win, is there anything else you desire to achieve walking out of this experience?
Robichaux : "Anytime I compete I grow in skill and experience. I do want a finish and will push for it ever second we have to work. I always want to make my coaches, teammates and family proud with my performance and character as a professional competitor. Asides from my own experience and gain, I always want to use any platform for others… I hope my performance will inspire and motivate my team mates, as a competitor you are only a representative of those who put in the work to get you there. We will bring about 20 Active Duty Marines from the U.S. Marine Corps Wounded Warrior Battalion for my foundation to get them out and have a good night. Last but most important is I always want to thank my family and give God credit and glory for me to be able to have the health, ability, passion, and support to do what I love! It truly is a blessing to me to continue to compete, I have overcome a lot physically and in other areas that I recognize it is gift for me to still be able to do this… for that I am thankful."
Finally how do you feel this groundbreaking event will aid in the growth of the Brazilian jiu-jitsu?
Robichaux : "Seth and Fight to Win put on a phenomenal production and the card is STACKED with amazing black belts… I feel honored to be on the card! I think Pro BJJ will continue to grow and this particular event will be a huge addition to the BJJ scene in California."
Any final thoughts or people you would like to thank before we wrap up this interview?
Robichaux :"I just want to thank my sponsor Deus Fight Company for putting "God First" and making some pretty amazing GIs as well!"
For more information on the event please visiting Fight to Win Promotions Facebook Page .