Hisae Watanabe: Don't Call it a Comeback
The lighter the weight, the weaker the power. Typically the case in combat sports of all kinds, that never applied to Kanuma's Hisae Watanabe.
When MMA fans think of the most devastating female punchers to ever grace a ring or cage, Cris "Cyborg" Justino and Amanda Nunes justifiably come to mind. However, the 105-pound pioneer in Watanabe made a name for herself by providing never before seen knockouts on a regular basis prior to either of her fellow legends.
"I don't really care about how I'm remembered," Watanabe told My MMA News. "People probably don't know me at all. Ten years ago there were young fighters who didn't know who I was so imagine now. I'm sure many fans don't even know who I am. I don't expect to be remembered much.
"I just want people to enjoy my fights while I'm still fighting. If I can entertain as many people as I can, that's great. It's not my character to be remembered and all."
Beginning her career in 2002, a young 22-year-old Watanabe got off to an aggressive start when landing an illegal up-kick against Maiko Okada resulting in her disqualification. A year and six fights later and she'd right the wrong via unanimous decision when the two rematched.
Watanabe didn't grow up as a lover of martial arts but it quickly consumed her. The passion to compete simply stemmed from wanting to better oneself as a woman – the natural power in her fists, of course, was a nice touch for this new journey.
"The initial introduction was from my desire to want to get stronger," Watanabe said of her path to MMA. "When you think about being in the position of needing to protect things, needing to protect people, you need a certain amount of strength. So that's just kind of my mentality regarding how I got into the sport.
"At the time, it was right about when women's MMA was taking off in Japan. As I got into it, the desire to get stronger grew. It was just the right time. I also had the desire of wanting to leave some kind of result – some kind of accomplishment in sports. So when I thought about what I could do and what I'm fit to compete in, that's when I was introduced to MMA and I decided to take a shot at it."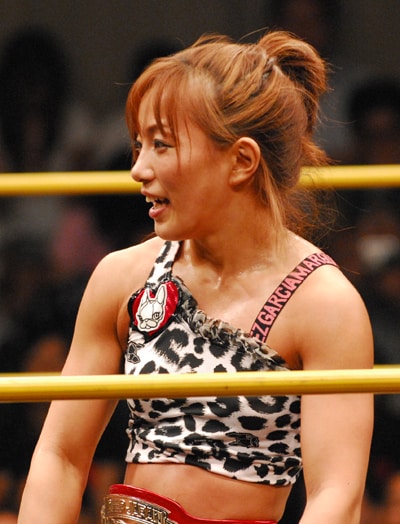 A staple of the SmackGirl promotion during its heyday, Watanabe left body after body in her wake to solidify herself as one of the best fighters in the world and a trailblazer for all women.
Intimidation was half the battle against Watanabe. Clearly skilled in several facets, her ability to shut the lights out with a single punch was something to be feared no matter stood across from her. In addition, she displayed one of the most iconic looks that the sport has ever seen – right up there with the likes of Tito Ortiz and Chuck Liddell.
"I feel that leopard prints are very cute and it's just wild," Watanabe explained. "It's very close to nature, right? I just feel like wearing and representing that leopard print kind of gives me that non-human strength. It kind of represents that true power.
"I've had a couple fights that weren't fought in leopard print and I just can't get into the vibe. I think when I wear the leopard print – I feel it. There's something about it that makes me perform well."
On Oct. 31 in Tokyo, Japan, Watanabe and her leopard print fight gear will be back in action for the first time since June 2016. The 27-fight MMA veteran did everything she could with the opportunities presented to her during her first run in combat – whether MMA or other.
New Japan Kickboxing: DUEL.22 will host the now 41 Watanabe vs. Shoko JSK in a kickboxing contest that the knockout artist admits is just a warm-up before venturing back into MMA.
"For the past five years where I was inactive, I was actually inactive. I literally wasn't doing anything," she said. "I started a part-time job as a trainer this year around March or April, and as I started training people and working out with the gym members, that desire starts to kick back in once you start moving your body and getting back in the gym.
"As long as I'm working out, I might as well get back in the fight again and that desire started to get bigger in the Summertime. I decided to take the fight around this Autumn. But now that it's confirmed, I think it's a bit premature. I think I should have trained a little more before I got a fight but I'm not getting any younger so might as well get it done when the time is right."
Watanabe's motivations for this new chapter in her revived career are simple; make up for moments in the past, and share experiences with her daughter.
The dwindling desire to punch faces in 2016 accompanied by becoming a mother led the former Deep champion to adapt to change. With many things in life, it just takes time before certain steps can be taken.
"Being a parent is awesome, it's so much fun," Watanabe said. "I'm having a lot of fun being a mother. Currently, I'm raising my child alone with the help of my parents. But I have this desire where I want to share the same experience. I want my child to get the experience that I had and I want to share it together. That's why I decided to come back to the sport. On top of that, my parents are still helping and they've been helping me out a lot with parenting. Now that my child is bigger and I have more time on my own, I felt I could go back in the gym and get back on track.
"Obviously, getting back into fighting will help me financially and it will also help my child get the experience of this part of the industry."
Considering the time period that Watanabe fought in originally, it wasn't until the latter half of her run that more global options to compete presented themselves for fighters. In MMA, her career has been exclusive to her home of Japan.
As a competitor turned mother, broadening her horizon has found new meaning.
"I have a strong desire to fight internationally… To a point where I only want to fight internationally," Watanabe laughed. "I fought internationally a few times, actually. I've done an exhibition in Vegas, Thailand, and Myanmar – I didn't fight in Myanmar but I went there. All my trips international have been so much fun and you know, why not? It's a free trip to go outside the country and you get paid. It's a great experience. I want to take my child and travel the world. In that sense, I think fighting is amazing. If things are right, you get the opportunity to travel and see the world, have fun. I want to get myself to a point where I do get opportunities to fight overseas."
It's essentially an undeniable fact in 2021 that MMA retirements never last. Though, the atomweight knockout queen never really reached that finality, to begin with.
Ultimately, once she does, her highlight reel will speak for itself.
"If I were to say one thing, I want people to remember me as that chick who hit really hard," Watanabe stated. "That chick who every time she fights she had a great impact and had a lot of knockout wins for a girl. I'm actually really excited because I think I hit a lot harder than I used to now."
Drake is an MMA writer based out of Brush Prairie, Washington, USA who specializes in feature pieces, the women's fight scene, lists, news coverage, and rankings. He has been a passionate fan of MMA ever since 2009. Drake has most notably written for BJPenn.com, FanSided, The Body Lock, South China Morning Post, MyMMANews, WhatCulture, Cageside Press, Sherdog, The Scrap, and MMA Today. He has also written for and created video content for RT Sport. As for other sports, Drake is a longtime fan of the NFL's Green Bay Packers and Jacksonville Jaguars.
You can follow him on Twitter and Instagram: @DrakeRiggs_ . Also check out all of his video content on YouTube at YouTube.com/DrakeRiggs where he uploads fighter interviews, podshows, and various other types of content.