Looking for a Fight! Chike "The Black Mamba" Obi Looks to Prove Himself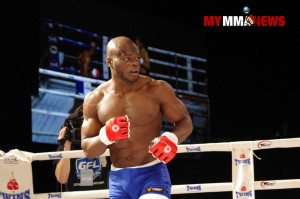 Chike "The Black Mamba" Obi is a professional mixed martial artist looking for a fight. This Brooklyn, New York resident stands in a unique position. He just competed in only his second pro bout with the president of the UFC, Dana White, in crowd spectating. Dana White is filming his new reality show "Looking for a Fight". The president of the UFC is accompanied by two pals of his, including former welterweight champion, Matt Serra.
On November 21, 2015, with Dana White in the stands, Obi was one of four welterweights competing inside the cage that evening. After a disappointing decision loss, Obi approached Dana to inform him he's a better fighter than what he displayed inside the cage that evening during the Dead Serious MMA 17 event in Philadelphia, PA.
According to Obi, Dana liked what he saw from the young fighter and recognized his marketing potential from the pre-fight interviews they showed on the big screen inside the arena. Obi said Dana paid him a great compliment by saying he's "one of the fastest and most athletic welterweights he has ever seen," White said according to Obi.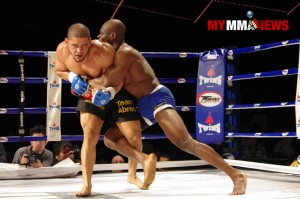 The UFC is searching for an opponent for CM Punk to make his debut against. Being a contender for becoming a possible opponent for the former WWE superstar unfortunately only lasted for a brief moment.
Obi's 0-2 record, which doesn't reflect his potential, cost him a chance at fighting the UFC new comer. The UFC is looking for a candidate that doesn't have a towering number of wins over the Roufusport pupil, but has a credible record for him to square up against. They are essentially looking for a win-win situation, a no name fighter that he could possibly defeat without looking like he was handed a homerun.
The Chute Boxe Long Beach fighter understands he is no longer a contender to face CM Punk, but he wants to pull his record out of the slumps, and he's not afraid to face quality opponents. This week My MMA News had UFC and Fox Sports write Damon Martin on discussing the potential fight between Mickey Gall and CM Punk. Obi mentioned to My MMA News reporter Kyle Carroll, his interest in competing against Mickey Gall.
Gall is coming off a first round victory at the same event Obi participated at, Dead Serious MMA. Gall, at only 23 years-old, is 1-0 as a professional after earning the win in front of the UFC president Dana White. Obi believes a fight against the New Jersey native would not only improve his record to 1-2, but would be a huge step in the right direction for his career.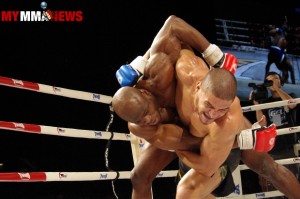 Before Obi began training for MMA, Obi has been a lifelong athlete. The transition to a rigorous training regimen is nothing new for the young professional athlete, but the amount of new technique a young fighter needs to be successful in MMA is life changing, which he has dedicated his life to. Obi starts his days off every morning with a run. Throughout the week he mixes up his training to incorporate all aspects of MMA. The Chute Boxe fighter spars at the gym, rolls around on the mat, weightlifts, and even adds aquatic training into his conditioning.
It first began after he took a Brazilian Jiu Jitsu class in 2010 with zero martial arts background. His first class was in Commack, New York, where he became addicted. Ever since then he has been training MMA relentlessly.
"I want to be the Best! I came into this sport to become the best." Obi said very confidently. After fighting at higher weight classes, Obi has cut down to welterweight where he believes he is now stronger, faster, and more powerful against his competition. "I know I'm a great fighter."
Obi made MMA history when he stepped inside the ring on November 21, 2014, against Ariel Abreu. These two fighters were the first mixed martial artists to compete at Madison Square Garden on the Victory Combat Sports 7: MMA at MSG fight card. The Nigerian native told My MMA News that the feeling of being a part of MSG MMA history is "indescribable".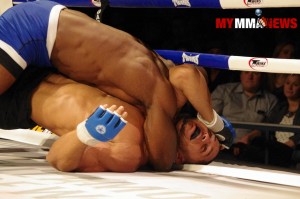 At 27 years-old, Obi felt he was ready to turn professional after a successful amateur stint. Being able to predict the outcome of his amateur bouts gave him confidence when making the decision to turn pro. He now acknowledges that it was possibly an ignorant decision not to listen to his coaches about taking a couple more amateur bouts, but he felt that being closer to the better part of three decades in age it was time to take that leap. "I felt like I had to jump in with the sharks," Obi said.
Standing at five feet ten inches tall, the welterweight is a very athletic fighter with lots of raw talent. This young man is a bright individual that has a B.A. in Communication Arts/Dramatic Arts, from Dowling College. He trains under head coach Luis Azeredo and Musuko Monroig. He is like a sponge when learning new technique. "The Black Mamba" has speed, and incredible athletic abilities to compliment his power when grappling. He also has heavy hands that deliver punishing blows and damage to his foes.
Obi is still relatively inexperienced in the fight game, and will only get better with time. Expect him to turn that 0-2 record around into a winning one, and make leaps within the sport over the course of the next two years.
A bout between Mickey Gall and Chike Obi might not appear worthy on paper, but if these two individuals were two meet inside the cage, the fans in attendance would be the true winners that evening.
Watch Video below of Obi fighting:
Victory Combat Sports 7 – Madison Square Garden, New York, NY.
Uploaded by jim genia on 2014-11-22.
Aggressive Combat Championships – Queens, NY.
Amateur MMA Mixed Martial Arts, Queens College Aggressive Combat Sports Championship
Kyle Carroll is a Long Island, N.Y. native and avid MMA and amateur wrestling fan. He has been a part of the wrestling community for nearly 20 years. Carroll has six years of experience coaching high school wrestling. His father coached high school wrestling over 35 years, passing on his strong knowledge. Carroll has been reporting MMA news since January 2011. The former wrestler's coverage includes the 2012 U.S. Olympic Wrestling Team Trials, 2013 & 2016 NCAA D1 Wrestling Championship, and numerous MMA events (Bellator MMA, King of the Cage, North American Fighting Championship, and Glory).