Referee Bill Bookwalter: Veteran both inside the cage and out
Referee Bill Bookwalter:  Veteran both inside the cage and out
Being the third man locked in the cage with two fighters who are putting everything on the line takes not only courage but skill. Referee Bill Bookwalter has both.
This U.S. Army Veteran not only signed up to serve his country but he also put on the four ounce gloves and competed in the sport himself. He knows first-hand what it feels like to be punched in the face but now he spends each and every weekend making sure fighters compete in a safe and controlled environment.
MyMMANews.com spoke with Bookwalter to discuss the requirements necessary to referee mixed martial arts competitions and why he got involved in fighting in the first place. Not one to shy from a little embarrassment Bookwalter also reveals a previous place of employment, the time he fought TUF winner Colton Smith, and more.
MyMMANews –  How long have you been refereeing and what made you decide to go from fighter to referee?
Bill Bookwalter – "I have been refereeing since January of 2012. My first match was at Ryan Kerwin's Xtreme Cage Combat at the Philadelphia Armory. There was no real decision to go to reffing . I had accomplished every goal in MMA that I had set for myself . The UFC and relying on fighting to financially support my family was NEVER a consideration. I had a really bad training camp and lost a fight to a guy I felt I normally would have crushed if I was right. I publicly retired that night. I wrote Greg Sirb (Pennsylvania's State Athletic Commissioner) an email thanking him for the opportunity to live out a dream. Two months later he offered me an official's position and I accepted. I was done fighting. It was a no brainer."
MyMMANews –   What type of training is required to become a licensed referee?
Bill Bookwalter – "There is a shadowing process in Pennsylvania where you discuss rules with seasoned referees and watch them work. Then after a month or so you start officiating a match or two (generally 0-0 amateurs ) to see how you do. I have shadowed under Dan Miragliotta …Kevin Mulhall …Keith Peterson ..All refs that have been used on multiple cards by the UFC.
MyMMANews –   You are a U.S. Army Veteran. Thank you for your service. Can you tell us a bit about your military career?
Bill Bookwalter – "I was stationed at fort Eustis, Va., for four years of active duty. I made Sergeant in three years and two months . I didn't get into MMA until after the Army …looking back now, I wish I would have gone to see Rick McCoy at the Richmond MMA Institute. I didn't start training until I was 29."
MyMMANews –   You fought the Ultimate Fighter winner Colton Smith (before he won the show) who is also in the Army. Was that an all military card? Tell us a little about that fight?
Bill Bookwalter – "I fought Colton Smith for the Operation Octagon title. He was 3-0 at the time, I was 3-2 … I wasn't ready for his bull rush style of fighting … but to be honest he was the best fighter I was ever in the cage with. I'm not sure even a perfect training camp and a perfect game plan would have enabled me to win that night. He was simply better. I make no excuses for any fight I ever lost. I can't stand when fighters make excuses."
MyMMANews –   You trained under Steve Blackman who is legendary in mixed martial arts and also had a very successful pro wrestling career. What was that like?
Bill Bookwalter – "Steve Blackman was one of the best drama free guys in the business. He has more stories from his years on the road with the WWE and they are all great. He was a great friend, instructor, and mentor. That being said ……he is big as an Ox…hits like a freight train, and I am glad he was never mad at me."
MyMMANews –   You have refereed fighters that you have fought. What is that like?
Bill Bookwalter – "Honestly reff'ing guys I have fought is business as usual. I have an immense respect for the sport. The guy who trained harder deserves to win no matter any past situations."
MyMMANews –   You travel all over the state and other states to include New Jersey, Delaware and Virginia pretty much every weekend refereeing fights. What do you do during the week for work?
Bill Bookwalter – "I am now a factory worker at Alcoa Mill Products in Lancaster, Pa., and a father of three girls."
MyMMANews –   You told us that while as an amateur you worked as a game technician at Chuck E Cheese and even dressed up in the mouse costume and danced for the kids. It's hard to picture a big badass mixed martial artist and military Vet doing that but….. Do you remember the song? Can you sing it?
Bill Bookwalter – "Yes I worked as a game and ride technician for Chuck E Cheese, even as a pro fighter and did indeed wear and dance in the mouse costume a few times to help out. Thank God, no I don't remember the song … it is very Silence of the Lambsish …all the voices have since stopped," (laughs).
MyMMANews –   "What was the most memorable moment you had inside the cage as a fighter? As a ref?"
Bill Bookwalter – "Most memorable moment in the cage …winning my first title in front of my daughters. Nothing I ever do on earth will top that moment. With some of the things my life involves, the odds of me winning a title were slim ….to have years of hard work pay off in a single moment was unreal. Any father can appreciate what it would be like to be recognized as a champion in front of his kids. …Most memorable as a ref …. My very first match I officiated in Bellator in New Jersey. The whole moment was very "how the heck did I get here ?"
MyMMANews –   Any scary moments?
Bill Bookwalter – "ANYTIME a fighter gets KO 'd. You want to give every fighter a chance to fight until he has nothing left. But any fight with any ref that goes on slightly too long can end with a knock out …. It's your job to let it happen as little as possible, sometimes it is unavoidable and everyone is looking at you like.. 'How could you let this happen?'..It's a scary moment."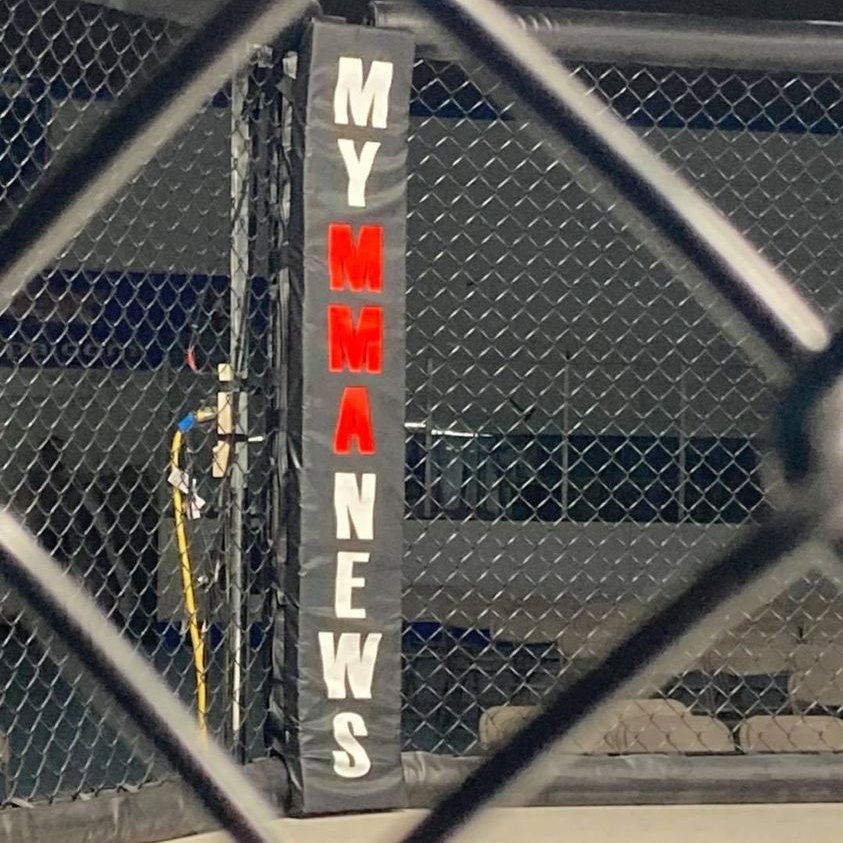 MyMMANews.com – We cover everything from MMA, BJJ, Bare Knuckle, Wrestling, Boxing, Kickboxing, and Judo
News, Opinions, Videos, Radio Shows, Photos and more.