Sarah Thomas Fights Rose DeMatteo in KTFO 13 Co-Main Event
Sarah Thomas Fights Rose DeMatteo in KTFO 13 Co-Main Event
Sarah Thomas enters the cage for her fourth bout in the last two months this weekend. The Long Island MMA bantamweight is scheduled to battle Rose DeMatteo Saturday evening, at The Sports Arena in the co-main event of KTFO 13. Doors swing open in St. James, New York at 6 p.m. EST and fights begin at 7 p.m. EST in front of an expected sold out crowd.
"I was having such a hard time finding fights, so I decided to say yes to everything," said Thomas, after mentioning her bout against American Top Team –Whitestone fighter, Rose DeMatteo, which will be her fourth bout in the last two months. "Weight cut is good. My boxing fights I had to be 141lbs, so I have to kept my weight low,"
In the last two months, Thomas has fought three times. One mixed martial arts bout and two amateur New York Daily News Golden Gloves boxing matches. After winning her first Golden Gloves bout of the tournament, Thomas earned a spot in the finals against former sparring partner and friend, Stacia Suttles. Last year she made her way to the Semi-finals and this year she fought her way into the finals. The finals of the New York Daily News Golden Gloves fight took place at the Barclays Center in Brooklyn, New York. Even though Thomas fell to Suttles in the second round to a standing ten-count, the motivated athlete is leaping back into the cage 12 days later.
On March 5, 2016, Thomas went three against Anais Almonte at ECF 9: Rage in the Cage 2. The Long Island MMA fighter won via split decision, but the refereeing at Extreme Cage Fighting could be called into question when Thomas has side control with her opponent's arm trapped, and the fighters are brought to their feet. Thomas won't have to worry about suspicious refereeing this weekend as KTFO is regulated by the No. 1 sanctioning body in New York State, the U.S.M.T.A. – Muay Boran League. Thomas' victory brought her overall MMA record to 1-1.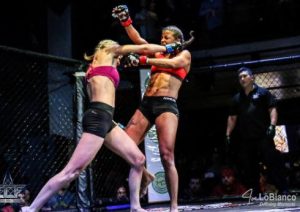 Thomas stands at 5 feet 10 inches tall, which gives the Bethpage native a distinct height and reach advantage over the 5 foot 3 inch tall DeMatteo. Thomas continues to demonstrate her improving striking abilities every time she steps onto the canvas. The Hofstra graduates strong footwork has allowed her long arms to be an advantage and keep opponents on the outside. Behind her stiff jab and lethal combinations, Thomas wears out her foes.
In her upcoming battle against the American Top Team – Whitestone fighter, Thomas will face an opponent with a lower center of gravity. DeMatteo has the power in her legs to finish takedowns and a right overhand punch that could end her opponent's night early. Expect to see Thomas circle around DeMatteo and work some leg kicks.
"The fans (if I have any) can expect to see me fight as hard as I can. I've fought some really good and tough chicks, so I am not fazed by much." Thomas said.
Thomas also has the ability to win a bout via grappling if the geography of the fight goes to the ground. Her countless hours training at the gym in wrestling and BJJ prepares her for an all-around war. With having one of the top wrestling coaches in the country standing in her corner, Thomas is confident that she'll have the advantage in the wrestling department as well.
Thomas trains at Long Island MMA and Panza MMA under Head Coach Anthony D'Angelo, BJJ coaches Brian Michelino and Gregg Depasquale, and Wrestling coach, and former NCAA division I all-American, Kyle Cerminara. A few of her teammates at Long Island MMA are rising stars within the UFC. Chris Wade, 4-0 in the UFC, heads to Netherlands for his May 8th, bout, Ryan LaFlare fights June 23, at welterweight, and UFC featherweight Dennis Bermudez.
According to Tapology, Rose DeMatteo (1-0) is ranked 22nd out of New York's female amateur bantamweights. Thomas is ranked No. 26 in the state of New York with a record of 1-1 in her amateur career. Both fighters hope to climb to two in the win column.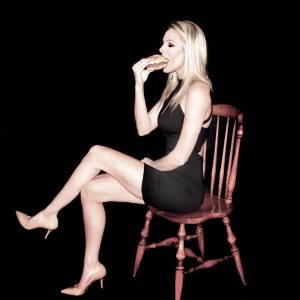 Fight fans can expect a crowd roaring fight between these two women. Both are talented athletes looking to climb the local rankings. As the co-main event, this bout could possibly position one of the women as a KTFO title contender.
Thomas is supported by Rich Schaffer, Spartabells, Gamma Labs, and Hold Fast Fight Gear. The 135-pound fighter hopes to schedule another bout in June on Long Island's local MMA scene.
Thomas can be followed on Facebook at Sarah Thomas and on Instagram at @sarahhhthomas.
"I fight because I love the sport, not because I am trying to prove a point. I don't fight as a way to symbolize overcoming my past hardships in life. I am an athlete and I love the sport. I don't want to be badass; I don't want to talk shit about my opponent, I'm not going to wear aggressive t-shirts and blast "let the bodies hit the floor." I will smile and be myself and enjoy what I do." Thomas said.
185 Likes, 8 Comments – Sarah Thomas (@sarahhhthomas) on Instagram: "Working on some wrestling! #Repost @kycerm with @repostapp. ・・・ Putting on the finishing touches…"
Kyle Carroll is a Long Island, N.Y. native and avid MMA and amateur wrestling fan. He has been a part of the wrestling community for nearly 20 years. Carroll has six years of experience coaching high school wrestling. His father coached high school wrestling over 35 years, passing on his strong knowledge. Carroll has been reporting MMA news since January 2011. The former wrestler's coverage includes the 2012 U.S. Olympic Wrestling Team Trials, 2013 & 2016 NCAA D1 Wrestling Championship, and numerous MMA events (Bellator MMA, King of the Cage, North American Fighting Championship, and Glory).