We have a real banger to look forward this weekend at UFC 255, as Mike Perry and Tim Means slug it out in our feature fight of the evening. We really couldn't ask for a better match up, these two bring it every time and are each incredibly dangerous in their own right.
Perry was initially slated against former UFC Welterweight Champion Robbie Lawler on this same night, but Lawler withdrew from the bout and was replaced by Means.
Lawler really hasn't looked the same lately, for a few years now, but he and Perry were still more than likely to have a great fight. Now, it's guaranteed this fight will be great. Means came to the UFC back in 2012 as a lightweight with a record of 16-3-1.
While he won his first two promotional fights, one via unanimous decision and one via TKO, he lost his next two to Jorge Masvidal and Danny Castillo, both via unanimous decision, before he was cut.
Means then won his next two fights in the LFA, both via knockout, and one over UFC veteran Pete Spratt, before coming back to the UFC as a welterweight.
Here is where he's had most of his success. He did lose his return fight to Neil Magny via unanimous decision, but rattled off four-straight victories following, finishing both Dhiego Lima (TKO) and George Sullivan (arm-triangle choke).
Matt Brown ended his win streak by hurting Means with an elbow before finishing him off with a guillotine choke.
He rebounded again with back-to-back knockout victories over John Howard and Sabah Homasi. Howard just KO'd Ray Cooper III last year, and Homasi has done extremely well recently in Bellator.
Means then fought Alex Oliveira in back-to-back outings, due to their first ending in a no contest. The fight was competitive for the 3:33 it lasted, but Means landed a couple illegal knees to a downed Oliveira and it was a wrap.
Their second fight wasn't as competitive, Oliveira kind of stormed through Means and submitted (rear naked choke) him in round two.
Means then defeated Alex Garcia via unanimous decision, before dropping back-to-back split decisions to Belal Muhammad and Sergio Moraes.
He's gone 3-2 since, trading wins and losses in each of his next five.
This included finishing Ricky Rainey (KO) and Thiago Alves (guillotine choke), losing to Niko Price (KO) and Daniel Rodriguez (guillotine choke), and defeating Laureano Staropoli via unanimous decision.
Means' Price fight was about to be one of his best performances of his career. His boxing was looking so sharp, and he couldn't miss that left cross, he landed so many of them. However, he ran straight into a counter right hook toward the end of round one and was knocked unconscious.
Mike Perry came to the UFC back in 2016 with a record of 7-0, and quickly improved his record to 9-0 with back-to-back knockout victories.
Those two victories came over fellow knockout artists in Hyun Gyu Lim and Danny Roberts, the Roberts fight of which is one of the best fights you'll ever see.
If you haven't seen Perry versus Roberts, it's our strong suggestion you watch it. If you love seeing fights that almost go the distance, but end in a brutal knockout after a 14-minute slugfest, that's the fight for you.
He ended the year with a unanimous decision defeat to Alan Jouban, before starting off 2017 with KO victories over Jake Ellenberger and Dominick Reyes' older brother, Alex Reyes.
He once again ended the year with a unanimous decision defeat, this time to Santiago Ponzinibbio.
This was followed up by a unanimous decision defeat to Max Griffin, and it was evident what Perry needed to work on. He's a good boxer, but he's a march-you-down brawler, he's gets out-classed when his opponents use their superior footwork.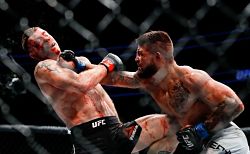 Perry then defeated Paul Felder via split decision, before being submitted (armbar) by Donald Cerrone toward the end of round one.
This was followed by a unanimous decision victory over Alex Oliveira, and then back-to-back setbacks to Vicente Luque (split decision) and Geoff Neal (TKO).
This brings us up to his most recent outing, where he defeated Mickey Gall via unanimous decision. Notice, not only has Perry gone from 9-0, or 11-1 to 14-6, but he hasn't knocked anyone out, in a cage fight, since he fought Alex Reyes back in 2017, and Reyes is a natural lightweight.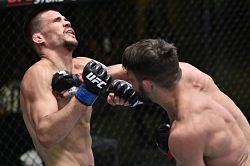 He went from being 9-0 with nine knockout victories, 11-1 with eleven knockout victories and a decision defeat, to going 3-5 in his next eight, being finished in two of those, and all three victories coming via decision, two of which were very close.
He's fallen off a tad recently, let's hope he gets everything together and starts putting on spectacular performances again. That version of Perry has got to be one of, if not the most entertaining fighter in the sport.
Perry is going to have to work his way to the inside in order to uncork those incredibly heavy bombs he has, but that's no easy task. Means has only been knocked out a single time, in his fight with fellow knockout artist Niko Price.
Means can't be doing well, keeping his range, then just slip and let Perry hit him with one of his bigger shots. Means is 6'2" with a 75", he should be able to keep the distance.
Perry has had issues with opponents that have been able to keep their range on him, being 5'10" with a 71" reach.
Perry isn't much of a volume puncher like Means is, he almost always telegraphs his strikes, Means doesn't. Means is a volume based striker and he also has some power of his own. Not to mention, he's a well rounded striker, and a well rounded fighter in general.
Perry went to the ground with Mickey Gall and wasn't submitted, which is honestly pretty impressive, but Means has a few submission victories of his own, and he doesn't discriminate his striking attack.
Means will throw kicks of all sorts, primarily his snap kicks, he throws elbows, his knees are vicious, he has a lot to work with compared to Perry's hands. Both of these men fought in professional boxing as well, but it was a short stint for each man.
Perry went 0-1, while Means went 2-1, both talents of which took those bouts in the middle of their MMA careers. All of the above doesn't mean Perry can't win this fight, he certainly can, he's just going to have to be on his absolute A-game.
The sheer strength Perry possesses is pretty insane, but strength doesn't win fights. It can certainly help aid in securing a victory, but he's going to need to mix it up and catch Means guessing. That's absolutely a possibility, and it's absolutely a possibility Means out-classes Perry throughout the fight. This is going to be a good one!
Who do you see winning this potential Fight of the Night?
I became a fan of combat sports when I was 12 years old. I was scrolling through the channels and landed upon Versus, where WEC was televised. Urijah Faber fought Jens Pulver for the second time that night. That's the first fight I ever saw, and I was immediately hooked. So eventually, I began covering the sport in the fourth quarter of 2018, and have since started writing about animals as well. If you'd like to see those pieces, be sure to check out learnaboutnature.com!