UFC 197: A Look At The Co-Headline Events
UFC 197: A Look At The Co-Headline Events
Once expected to be headlined by the rightful title fight between Jon Jones and Daniel Cormier, UFC 197 looked like arguably the biggest MMA event of 2016 so far. Unfortunately, when Cormier injured his foot earlier this month, a replacement had to be found and the top of the card now features Jones facing off against Ovince Saint Preux in an interim light heavyweight title fight. Nevertheless, the combination of Jones' comeback and a co-headlining flyweight title bout between Demetrious Johnson and Henry Cejudo have made UFC 197 a very compelling event for MMA fans.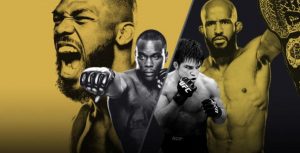 Starting with the flyweight title fight, fans may be in for a closer contest than it might look like at a glance. As a dominant champion in the division who's proven his worth time and time again, "Mighty Mouse" Johnson will be the strong betting favorite heading into Saturday's action, and with good reason. He's a versatile fighter with unmatched quickness and athleticism, and he'll have the psychological advantage of knowing without a doubt that he can defend his title. However, Cejudo is a fighter who can't be overlooked. Though far less experienced in UFC, he's undefeated as a professional fighter and is a better athletic match for Johnson than most. Furthermore, as one fight preview pointed out, Cejudo has a lot of confidence in his boxing, despite being better known for the wrestling skill that earned him Olympic gold. He has multiple ways of hurting Johnson, and the champion—while, again, a justified favorite—will have to bring his "A" game to keep his belt.
In the light heavyweight bout, Saint Preux looks to be a little bit less of a threat as the challenger. An extremely imposing fighter, Saint Preux is dangerous on his feet and capable of landing some big shots. He may even be able to out-box Jones, if it ever came to that. But assuming he's anywhere near his top form after a long layoff due to suspension, Jones is simply the more versatile fighter. One betting guide to MMA fighting described the sport as chess with muscles, combining multiple styles, physical prowess, and technical skill. That's one of the better characterizations of just how varied these fights can be, as well as one of the best descriptions for why Jones is so hard to beat. He simply has more skills and styles at his disposal—a better understanding of the chessboard, in a way.
So as we look ahead to the UFC 197 main events we'll be seeing this Saturday, it's hard to pick against the favorites. However, both fights do offer some intriguing possibilities. It's important to remember that the Jones fight hinges on the former champion's fitness and preparation. Even though he's clearly the superior fighter and has far more ways of pulling off a win than Saint Preux does, he's been away from the sport, which casts some uncertainty on the whole evening. And where Johnson is concerned, it's always interesting to see a challenger who's as good or better at certain styles. Based solely on UFC reputation, it doesn't look like a very close fight. But Cejudo's specific style and talents could make things pretty interesting for Johnson.
It may not be the card it once was with Jones and Cormier renewing their rivalry. But don't be surprised if UFC 197 ends up being one of the more entertaining events in some time.
The following two tabs change content below.
Founder of MyMMANews.com - After writing for Ultimate MMA magazine and serving as the editor for U.S. Combat Sports, both of which went on hiatus, I decided to venture out on my own and enlist a staff of writers and photographers that could help me achieve my goal of telling stories that would otherwise go untold. We pride ourselves in taking a deeper look into the fighter, and understanding what makes them tick. - #1 Dad, Marine Corps Veteran, 80's and 90's Pro Wrestling Fan, MMA Commentator, Beer Lover, and avid movie watcher. Seriously..... I watch a lot of movies.
Latest posts by Eric Kowal (see all)