UFC Releases Statement on Ariel Helwani Ban
UFC Releases Statement on Ariel Helwani Ban
This past Saturday at UFC 199, MMAFighting.com reporter Ariel Helwani leaked a possible comeback of former UFC heavyweight champion Brock Lesnar before the UFC had a chance to announce it themselves.  Helwani was then escorted from the building and told that he would receive a lifetime ban.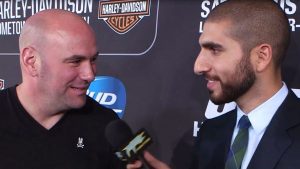 Today, the UFC released the following statement:
Following a conversation with the editorial team at SB Nation, UFC will not prevent MMAFighting.com from receiving media credentials to cover live UFC events. We respect the role the media plays in our sport and beyond, including MMAFighting's ability to report news. However, in our opinion, we believe the recurring tactics used by its lead reporter extended beyond the purpose of journalism. We feel confident our position has now been adequately communicated to the SB Nation editorial team.
UFC's goal as the world's leading mixed martial arts promotion is to cultivate interest in its world-class athletes and events, and deliver for the fans. We will continue to introduce this sport and its athletes to new fans across the world, and we will do so by working alongside media across all platforms.
There is no official word yet as to whether this means Helwani is allowed back or just the rest of the staff of mmafighting.com