BAMMA Returns to Ireland February 27 for 'BAMMA 24 – Kone vs. Phillips'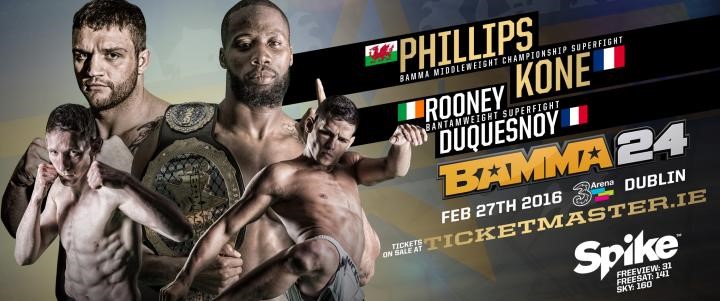 London, England – February 24, 2016 –
BAMMA
,
Europe's largest and most prominent Mixed Martial Arts (MMA) promotion, is gearing up for another exciting night of fights in the Emerald Isle. The first show the organization held in the Irish Capital (BAMMA 22:
DuQuesnoy vs. Loughnane
)
was hugely successful, drawing over 5,000 fans. Attendance for 'BAMMA 24 – Kone vs. Phillips' is expected to be even higher, as the card features many of Europe's top
MMA prospects. The event will take place on February 27 at the famed 3Arena in Dublin, Ireland.
The fight card for this highly anticipated event is stacked with top MMA talent, including many fan favorites from England and Ireland. Warriors from both countries will go head-to-head under the BAMMA banner, with the results having massive implications across the BAMMA divisions. In addition to the stellar roster,
'BAMMA 24 – Kone vs. Phillips'
features two title fights and a Bantamweight Superfight that fans will not want to miss!
In the main event BAMMA Middle Weight Champion Cheick 'The Sniper' Kone (13-3) is set to defend his title against John 'The White Mike Tyson' Phillips
(18-6-1)
. Kone ,
currently riding a 6 fight win streak that includes impressive first round wins over Andy 'The Lions Paw' DeVent, 'The Housewives Choice' Chris Fields and Benny Brinsa,
will be looking to add Phillips to his 'who's who' of middleweight division wins.
Phillips, known for his no nonsense striking,
signed a new multi-fight deal with the organization to face Kone. The BAMMA veteran went
2-0 in 2015 and is looking to kick-off 2016 with a championship belt. Both Kone and Phillips are known for finishing fights. Fans can expect nothing less than fireworks when these heavy handed fighters enter the cage!
In the Co-main event
BAMMA Featherweight Champion Tom 'Firekid' DuQuesnoy (11-1-1), who trains out of
Greg Jacksons
Jackson-Wink MMA in Albuquerque, New Mexico
,  makes the drop down to bantamweight to challenge Ireland fan favorite Damien 'The Rage' Rooney (10-4-1).
On a 7 fight winning streak and undefeated since February of 2013, this will be
DuQuesnoy's first appearance in the Bantamweight division. He will not be getting a warm welcome from Rooney, who will be looking for a dominant win in front of his home crowd.
Rooney, k
nown for his entertaining style and crowd pleasing performances
,
has long been a fan favorite in the Irish MMA scene.
These are just a few of many exciting match-ups set for BAMMA 24! In addition to a stacked main card, the preliminary card features Europe's finest up and coming MMA talent. This is a night of fights that fans will not want to miss! See the full fight card below.
Official '

BAMMA 24 – Kone vs. Phillips'

Fight Card:
(Bantamweight Superfight
)
*
Tom 'Firekid' DuQuesnoy vs. Damien 'The Rage' Rooney
(Middleweight Title)
Paul Byrne vs. Andy 'Lions Paw' DeVent
(Light Heavyweight) 'The Housewives Choice' Chris Fields vs. Dan Konecke
(Welterweight)
Nathan 'Mr. Bag & Tag' Jones vs. Peter 'The Showstopper' Queally
(Lonsdale Bantamweight Title)
Alan 'The Apprentice' Philpott vs. Nathaniel 'The Prospect' Wood
(Lightweight) 'Magic' Myles Price vs. Mario 'Rudely' Saeed
(Women's Featherweight)
Sinead Kavanagh vs. Zarah Fairn Dos Santos
(Middleweight) Conor 'Da Crook' Cooke vs. Matt 'Farmer Boy' Hallam
(Lightweight) Brian 'Pikeman' Moore vs. Mick 'Basher' Brennan
(Featherweight) Decky 'The Diamond' Dalton vs. Mike 'Gip' Cutting
(Featherweight) James Gallagher vs. Gerard Gilmore
(Featherweight) Dylan 'The Nuke' Tuke vs. Mark 'The Prophet' Andrew
(160lb Catchweight)
Rhys 'Skeletor' McKee vs. Alex Masuku
(Bantamweight) Sean Tobin vs. Gary 'The Dumptruck' Morris
(Featherweight)
Lloyd Manning vs. Nicholas Ott
(Lightweight Amateur Bout) Cian Cowley vs. Jay Moogan
*Tom DuQuesnoy is still the BAMMA Featherweight Champion, this is his debut at Bantamweight
'BAMMA 24 – Kone vs. Phillips'
will take place this Saturday February 27, 2016 at the 3Arena in Dublin, Ireland. Fights begin at 7pm GMT. Tickets can be purchased on
www.bamma.com
Fans worldwide can watch the preliminary bouts live (and FREE) on the
Lonsdale FB page
from 2pm – 5pm ET. Main card bouts to air live on Spike TV UK 10pm GMT.
BAMMA events are bro
ught to you in Association with
Spike TV & Channel 5
(
BAMMA Broadcast Partners
), Lonsdale & Sports Direct (
Official Equipment Partners of BAMMA)
and
Safe MMA (
Ind
ependent British Medical Organiz
ation
).
BAMMA is Europe's largest and most premier MMA organization. BAMMA launched in 2009 with the aim of delivering Mixed Martial Arts events that fully capture the entertainment and sporting prowess on display in the world's fastest growing sport. BAMMA's combination of arena sized venues, compelling fight cards and exceptional production values has led to the fight organizations unrivaled position as Europe's leading MMA promotion, as well as a broadcast deal with Spike TV UK.  For more information, please visit
www.Bamma.com
.
ABOUT LONSDALE:
Firmly established as the leading brand of fight sports equipment and clothing, Lonsdale is steeped in over 50 years of fight history. From humble London origins the Lonsdale brand quickly became the hallmark of both boxing and MMA champions throughout the world, with its legendary quality and authenticity.
SportsDirect was founded as a single store in 1982 and has now grown to become not only the UK's largest sports retailer, but the UK's top sports retailer. 
TheSportsDirect.com
 retail group currently has over 470 stores including SportsDirect.com, Field and Trek, Hargreaves Sports, Gilesports and Donnay International stores, as well as stores in Ireland, Belgium, France, Portugal, Holland and Slovenia.
SportsDirect.com offers an incredible choice of sports equipment, clothing and sportswear. 
SAFE MMA is a voluntary medical advisory body established to improve the safety of MMA fighters in the UK. Under the Safe MMA banner, the medical center provides a secure, centralized and confidential database for fighter medical records; and coordinates affordable, standardized blood and medical tests for all registered fighters. Member promotions commit to only using professional fighters that have been medically cleared by Safe MMA doctors. Additionally, member promotions provide pre and post-fight medical examinations for fighters at events. All medical data is submitted along with advisory suspensions to Safe MMA.