PARIS — BELLATOR MMA officially kicked off fight week today in a big way with an unforgettable press conference from the Eiffel Tower in Paris. BELLATOR President Scott Coker was joined on the dais by main event fighters, former Middleweight Champion Gegard "The Dreamcatcher" Mousasi (49-8-2) and Fabian "The Assassin" Edwards (11-2), as well as former BELLATOR champion Brent Primus (11-3) and his BELLATOR Lightweight World Grand Prix opponent Mansour "Afro-Samurai" Barnaoui (20-4).
BELLATOR 296: Mousasi vs. Edwards will be televised live in America on SHOWTIME at 10 p.m. CEST/4 p.m. ET. Tickets for the event are on sale now and can be purchased at accorarena.com and bellator.fr.
Preliminary action for BELLATOR 296 begins at 5:30 p.m. CEST/11:30 a.m. ET and can be viewed on both the BELLATOR and SHOWTIME Sports YouTube channels as well as the BELLATOR MMA channel on Pluto TV.
UPDATE: Preliminary matchups between Brett Johns (19-3) and Marcirley Alves Da Silva (11-3), as well as Gregory Babene (21-8-2) versus Kyle Stewart (15-6) have been cancelled. An updated listing of the bouts is available below.
HERE IS WHAT TODAY'S ATTENDEES HAD TO SAY:
SCOTT COKER:
"When I think about Paris, I think about all the great martial arts talent that has been here for years. Before MMA was legal the best kickboxing in the world was here. When we started making targets for expansion globally, France was on the list as soon as MMA was legal. This will be our third event and I believe it will be our best. Being in the Eiffel Tower for this press conference is amazing as well. We have done fights all around the world and this press conference location must be the best in the world."
"This is a group of lightweight fighters from all around the world and I believe this is the best lightweight tournament held in history in mixed martial arts."
On the rising popularity of BELLATOR in France "There are many different organizations around the world that are popular, and we are going to focus on our business and growing our business. I think if you look at our champions, we definitely have the best in the world. Johnny Eblen and Yaroslav Amosov for example are the best fighters in their division. I'm going to focus on our fighters and focus on building our business. This fight will be airing in 160 countries in the world."
On a potential location for semi-finals for the Lightweight World Grand Prix "We do fights all over the world and this fight would be big anywhere."
"Paris is an amazing city. When we set our sights on worldwide travel, we look at London and Tokyo and we would like to do 2-3 events here in France every year and have a subseries of events that we can build in 2024. It can be to try and build the French fighters and find the next big star. When I think about Europe and France specifically, this can be a hub filled with a series of fighters with the winner going to BELLATOR."
GEGARD MOUSASI:
On how he has been able to maintain his career for 20 years "This is what I do. I don't know anything else. One more shot at the title, my fight with Edwards and then I'll go from there."
On the potential rematch with Johnny Eblen "I'll first focus on Edwards, and I just need to come and fight. He caught me good in the first round, and he got the best of me. I just need to come to fight and that's what I am going to do on Friday, I was hesitant last time to go all out."
FABIAN EDWARDS:
If he believes Gegard Mousasi is overlooking him "On Friday night I'm going to put my hands on him, so I don't care if he's looking over me."
"This fight means a title shot. I don't look at him [Mousasi] as a legend, he's just another man."
On how he has been able to get to this point in his career "Believing in your coaches. My coach has been here since day one so that's the secret."
On the likelihood he will join his brother as world champion by the end of 2023 "100%, that's what I'm aiming for. I'm ready to go. 2023, both champs."
BRENT PRIMUS:
On the opportunity to fight for a million dollars "Life changing for me, and my family and I am ready for the challenge. After I beat Mansour [Barnaoui], I'm going for the champ over there."
On the potential rematch with Alexander Shabliy "I can get that revenge in the finals, and I think he has a good chance to take over that side of the bracket. I'm not looking past the tough opponent I have in front of me but it would be nice to get that revenge."
If Mansour Barnaoui is his toughest opponent to date "I'm not going to say toughest, I've fought some tough guys like Michael Chandler, but I know he's tough and there are some things that I need to be ready for."
On what's next after BELLATOR 296 "Obviously Usman because he has the belt and that's the goal but right now, but I have a task in front of me so when I handle business on Friday I'll look towards that."
"I feel like I can finish Mansour on the feet or on the ground. It's going to be a tough fight but I'm confident I'm going to finish this guy."
MANSOUR BARNAOUI:
"You'll get to know me on Friday, and you'll see an explosive fight."
On his future at BELLATOR "Win the tournament, get the belt with my team surrounding me."
On his preparation "Same business as usual. The same team with the same project. We know that my opponent is good on the ground, so we are prepared for that."
On what he would do if he won the million-dollar prize "I don't know yet, I'll start with a skateboard."
"I want to win this tournament and get the belt and like I told you before, win all the belts in all the organizations and be the best in the world."
On his potential matchup against Usman Nurmagomedov "I'm not in his head but one thing is in my head, finish Brent Primus and move on."
His prediction for his fight "A very explosive fight and finish in the first round."
On facing Usman Nurmagomedov after having fought Islam Makhachev "Every fight is an experience; this one particularly would be a special one."
USMAN NURMAGOMEDOV:
His prediction for the BELLATOR 296 co-main event "We'll see. I hope we see a great fight and good luck to both of you."
On Mansour Barnaoui's bout with Islam Makhachev "Of course I've seen this fight, but this fight was a long time ago. Mansour has grown up so much. First of all, Mansour needs to win this fight and I wish you both good luck. I will await you on the top. See you soon."
JOHNNY EBLEN:
"This is really exciting here. Whether I retire Gegard or crush Fabian's dreams, I look forward to it."
"I mean they're both one of the best guys in the world. But I'm the best. I can't wait to prove that against one of them, so I hope they both put on a show come Friday night."
###
BELLATOR 296: MOUSASI VS. EDWARDS MAIN CARD:
SHOWTIME | BBC iPlayer (U.K.) | RMC Sport (France)
May 12 — 10 p.m. CEST/9 p.m. BST/4 p.m. ET/1 p.m. PT
Middleweight Main Event: #1-Gegard Mousasi (49-8-2) vs. #2-Fabian Edwards (11-2)
Lightweight World Grand Prix Co-Main Event: #4-Brent Primus (11-3) vs. #8-Mansour Barnaoui (20-4)
Middleweight Bout: Douglas Lima (32-11) vs. #10-Costello van Steenis (14-2)
Lightweight Bout: Thibault Gouti (14-6) vs. Kane Mousah (14-4)
BELLATOR 296: MOUSASI VS. EDWARDS PRELIMINARY CARD:
BELLATOR MMA YouTube channel | SHOWTIME Sports YouTube channel | BBC iPlayer (U.K.) | Pluto TV
5:30 p.m. CEST/4:30 p.m. BST/11:30 a.m. ET/8:30 a.m. PT
Flyweight Bout: #6-Denise Kielholtz (6-5) vs. Paula Cristina (6-1)
Welterweight Bout: Oliver Enkamp (11-3) vs. Luca Poclit (8-1)
Lightweight Bout: Davy Gallon (21-8-2) vs. Saul Rogers (15-5)
Featherweight Bout: Yves Landu (18-9) vs. Piotr Niedzielski (17-5)
Contract Weight Bout (141 lbs): Sarvarjon Khamidov (14-0) vs. Kevin Petshi (18-5)
Lightweight Bout: Chris Gonzalez (8-2) vs. Tim Wilde (15-4-1)
Featherweight Bout: Fabacary Diatta (8-1) vs. Keir Harvie (5-2-2)
Contract Weight Bout (150 lbs): Asael Adjoudj (5-1) vs. Georges Sasu (4-2)
Welterweight Bout: Bourama Camara (5-2) vs. Romain Debienne (8-4)
Light Heavyweight Bout: Simon Biyong (9-2) vs. Jose Augusto (7-4, 1 NC)
Welterweight Bout: Steven Hill (7-0) vs. Nicolo Solli (4-1, 1 NC)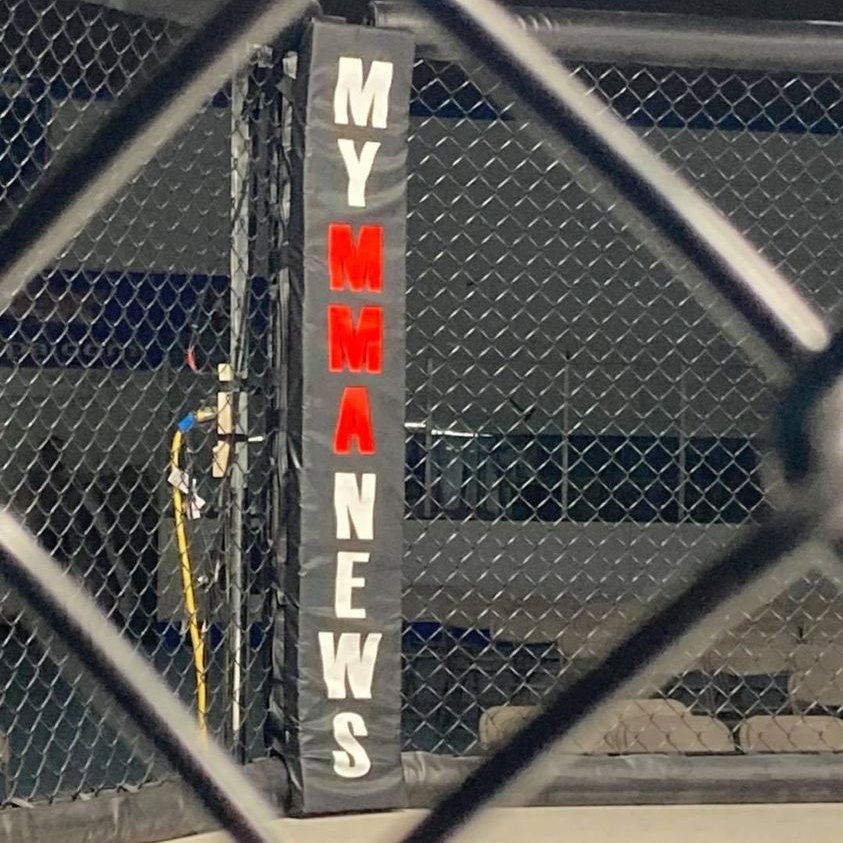 MyMMANews.com – We cover everything from MMA, BJJ, Bare Knuckle, Wrestling, Boxing, Kickboxing, and Judo
News, Opinions, Videos, Radio Shows, Photos and more.