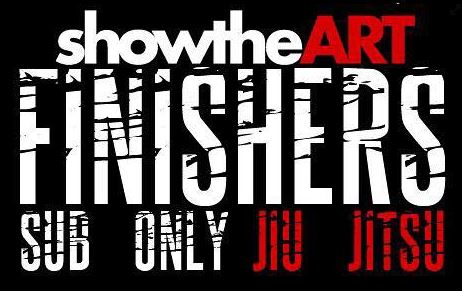 "Finisher" is a term that combat sports fans have grown to love. A finisher is one who is always ultimately going for the kill and trying to finish their opponent by any means necessary. Unfortunately, it is also a term that has been used less and less as sports like MMA and Brazilian Jiu-Jitsu have evolved. Competitors have become more and more complacent with decision wins, and rightly so, as competition is ramping up and game opponents are easy to find. However, the world of submission grappling is quickly evolving to combat this as a fairly new tournament format has been picking up attention as of late. Many grappling purists seem to be in support of the advancement of the Submission-Only movement.
10th Planet Jiu-Jitsu Founder Eddie Bravo started his own tournament in June of 2014 called the Eddie Bravo Invitational (or EBI). EBI is a 16-man invitation-only tournament consisting of some of the best grapplers in the world, but predominantly from the Western United States. Bravo established EBI in order to prevent point-fighting jiu-jitsu, which many grapplers have argued can be dominated too easily by takedowns and stalling. The matches last 10 minutes with no points, or advantages; in the event that neither competitor gets a submission, there are a potential three unlimited-time overtime periods in which one competitor must work to submit his opponent from an advantageous position, while the other competitor looks to escape. At the point at which one competitor gets a submission or escapes, that half of the period is over, and the competitors switch positions for the second half. If the competitor who submitted/escaped from his opponent in the first half escapes or submits his opponent in the second half, the match is over. If the match goes through all three overtime periods, the man with the fastest overall escape time is crowned the victor, which provides an incentive to moving swiftly and escaping quickly, and also eliminates the need for advantages and referee decisions. The format seems to be working in regards to being conducive to exciting matches and finishes. The most recent EBI resulted in 12 submissions out of 15 matches.
Inspired by the success of EBI, frustrated by a number of problems with the local jiu-jitsu scene, and simply wanting to see more finishes in East Coast grappling, 10th Planet brown belts Jon-Michael Holland and Zach Maslany have created their own competition, one that almost guarantees exciting matches and plenty of submissions: The Finishers Submission-Only Tournament. The tournament will follow the EBI format and ruleset. There will be two 16-man brackets: a 155 lb. division and a 170 lb. division. Grapplers will pay an $80 buy-in fee, but the winner of each division will receive $1000 in addition to packages provided by certain sponsors of the event. Maslany hopes that all the competitors go out and throw it all on the line, and with the roster he's put together, it is hard to imagine these grapplers will do anything but that.
The 155 lb. division boasts a who's-who of East-Coast grapplers, and consists of both savvy veterans and young up-and-comers. EBI veterans Michael Padilla and Mike Main have experience with this ruleset and are no stranger to long matches against world-class opponents. 50/50 black belt Seph Smith holds wins over many notable grapplers, including fellow black-belt and lightweight competitor Michael Padilla. Renzo Gracie black belt Eric Sherman is one of Eddie Cummings's main training partners, Cummings recently won the latest EBI tournament, and has likely been a large part of Sherman's preparation. Rounding out the division's black belts is Bill Algeo, the 7-2 featherweight MMA prospect is currently a top contender for Cage Fury Fighting Championships. After his most recent opponent-to-be couldn't make weight and wasn't cleared to fight at CFFC 52, it's safe to say that Algeo is itching to put it on the line on November 15th. Tournament co-founder and Eddie Bravo brown belt Jon-Michael Holland is another one of the high level competitors in the bracket. Holland has been training for over a decade and his excellent coaching and advanced understanding of jiu-jitsu shines through in his students like teen-phenomenon and EBI Superfight veteran Grace Gundrum or 170 lb. competitor Jon Blank.
The 155 lb. division has grapplers representing academies such as Team Balance, S.A.S. 10th Planet, Tristar Gym, Unity Jiu-Jitsu, and more. The skill found in this division alone is worth the price of admission, but combined with the exciting ruleset and raw athleticism of this young division, the lightweights promise not to disappoint in the inaugural Finishers Submission Only.
The 170 lb. division does not carry the same caliber of names as the lighter weight class does, but it certainly has the potential to be ridiculously exciting. Newly crowned IBJJF Brown Belt No-gi World Champion Gordon Ryan is the favorite to win, as far as accomplishments and accolades are concerned. Ryan was recently named one of the top brown belts of 2015 by BJJheroes.com and had a rapid ascension to world champion after only receiving his brown belt less than six months ago. Pedro Sauer brown belt David Porter is a D'arce choke specialist, and could wrap it up at any given time. Due to his lengthy extremities and expertise with chokes, Porter is a dangerous match up for anyone in the division and will always be on the hunt for a finish. Renzo Gracie Pennsylvania brown belt Jordan Stiner is another accomplished MMA fighter and amateur wrestler who will look to grind out his opponents before ultimately looking for the submission. Stiner wrestled in college at the NCAA division one level and is currently 9-3 as a professional fighter, he is the most seasoned wrestler in the division and will assuredly be a tough match up for any of the competitors. Joe Solecki is another high level brown belt. Solecki is a Serra BJJ product and combines his athleticism with jiu-jitsu prowess to create a unique style all his own, be on the lookout for his dangerous leg lock game and his uncanny ability to scramble out of dangerous situations. The 170 lb. division hosts a number of tough brown belts, but also has purple and blue belts that will be given a chance to step-up. As any fan or competitor knows, upsets can happen at any time, which is what makes this division so great. The mix of dominant, high-level competitors with unestablished, hungry competitors will likely provide fireworks in many of the matchups in this division.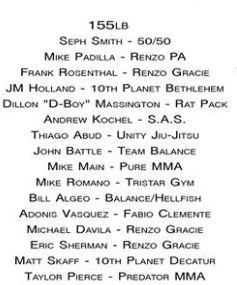 Above all, tournament co-founder Zach Maslany states that this tournament is important in establishing east coast jiu-jitsu as a legitimate grappling entity. When asked about this tournament's potential impact on the national scene, Maslany said simply, "(The west coast) is always ripping on us, but you know what, I think the east coast has a lot to say. That's what I want to do, is showcase these guys." Additionally, Maslany hopes the tournament helps to spawn other local tournaments of this format and caliber in an attempt to further the growth of jiu-jitsu and to keep it going in what he and many others consider the right direction.
The Finishers Submission-Only Tournament takes place on Sunday November 15th, 2015 at 9 North Avenue, Dunellen, NJ 08812.
Competition starts at 2 p.m. and tickets are only $10.
There will be free livestream of the event at FinishersJiuJitsu.com.
The tournament is sponsored by Show the Art, Lanky Fight Gear, 93 Brand Jiu Jitsu, Elite Total Body Cryotherapy, BJJ Box, The Armbar Soap Company, Phalanx Jiu Jitsu, Jitstyle, East Coast Grappling Company, Tap Cancer Out, IMRSE, Inverted Gear, the Finishers Podcast, Igloo Cryotherapy, Lehigh Valley Fight Shop, Kimera Coffee, Art of Floating, and the International Submission-Only Federation.
For live updates of the event, follow @MyMMANews on Twitter and like us on Facebook.