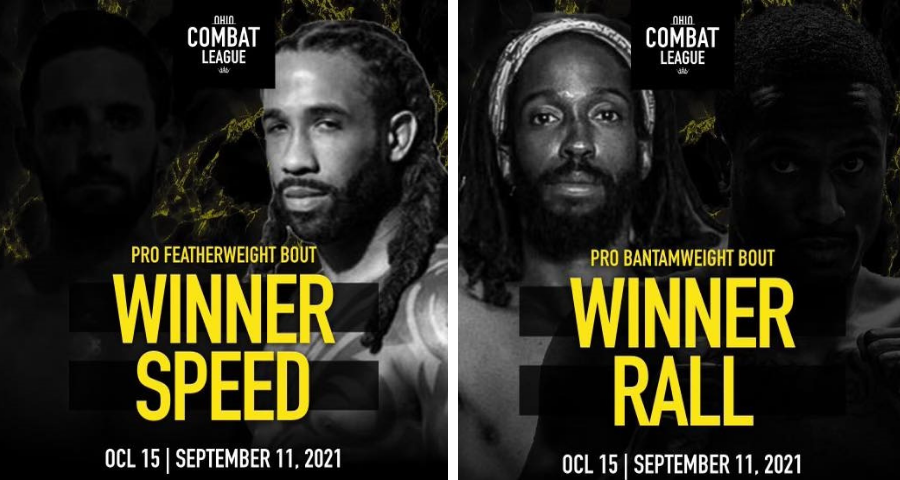 Keith Speed and Shawn Rall pick up wins at Ohio Combat League 15
Ohio Combat League held its 15th event over the weekend, as OCL 15 went down at the Columbus Convention Center.
The event featured a total of 15 bouts, including two in the pro ranks and an amateur title fight.
In the night's main event, American Top Team's Keith Speed earned his third win in four outings as he topped Shawn Tarlton via majority decision. Originally from Ohio, Speed now trains in Florida with ATT. He's turned his career around after starting 1-4 and now boasts a 4-5 record overall. The loss is the first of Tarlton's career. The Michigan native made his pro debut in August with a gogoplata submission victory over Jake Schilling.
In the night's other pro bout, Shawn Rall submitted Andre Small with a triangle choke in the first round. The win was the second in a row for Rall and his first fight since February 2020. He had been on a six-fight losing streak after starting his career 2-1. He's now 4-7 overall. For Small, it was his third straight loss after a win in his pro debut.
In the amateur main event, Kobe Woodall claimed the lightweight title with a victory in the finals of a four-man tournament to crown a champion. The Ronin Training Center product topped Kentucky's Zach Stacy with a unanimous decision victory to move his overall record to 5-0. The 24-year-old is the No. 1 ranked amateur lightweight in Ohio according to Tapology.
The fight of the night came from the women's ranks. In a 130-pound catchweight bout, Karli Thomas topped Whitney McHaffie in one of the best fights of the year in the state. Thomas, who hails from Pennsylvania, advanced her amateur record to 2-0, while McHaffie dropped her first bout. McHaffie made some headlines leading up to the bout, as the former Marine was discharged from the military in July for her refusal to wear a mask on base, citing a religious exemption. The Toledo native appeared in a video with Ohio Senate candidate Josh Mandel explaining her discharge from the military.
Full results from Ohio Combat League 15 are available here.
David McKinney has covered MMA since he was in high school in 2008. A former co-owner of BluegrassMMA, he currently hosts the Beers and Beards and Brewery Adventures podcasts. He covers regional MMA in the Midwest with a focus on Ohio.