Aaron McCallum on Mark Tiffin: "He's Not Gone To War"
Aaron McCallum and Mark Tiffin clash for vacant BKB British gold at BKB 34 on September 16th.
The fistic fireworks emanate from Indigo at The O2 in London, England, and the broadcast goes down on beIN Sports.
McCallum spoke to me on Bowks Talking Bouts to discuss their respective roads heading into this vacant title clash, the machinations of this BKB 34 matchup, and so much more. Excerpts from the chat are below.
Aaron McCallum
You last fought Scott McHugh for British gold and in your post-fight interview you guys had, he shouted out Tiffin as a great deserving opponent versus you for a vacant title fight as McHugh pursues a world title.
Can you give your thoughts on McHugh being a bit of a clairvoyant and does the perception of you as an underdog change heading into this sophomore British title bid?
"Yeah, that's it. He's obviously seen something. Mark is his mate around his area, so. Obviously, he's been in the ring with me. So he sort of knows what both fighters were on. I think everybody that's seen the fight matchup also knows what's coming here. We're both pretty forward fighters, very tough fighters. So yeah, it's going to be an exciting fight to watch coming up. I know that."
"I think he's 3-0 in BKB. But his 3-0 wins aren't actual, without sounding disrespectful, he's not gone to war in them fights. He hasn't fought anyone really as tough as who I've fought and all that, so. I wouldn't say I am the underdog. I'd say again, it's most probably even matched fight. So yeah, I don't know what to say about it. I'm don't know if I'm the underdog or not. The mentality I'll always go in as the underdog just for the fact that I've not really been boxing all these years."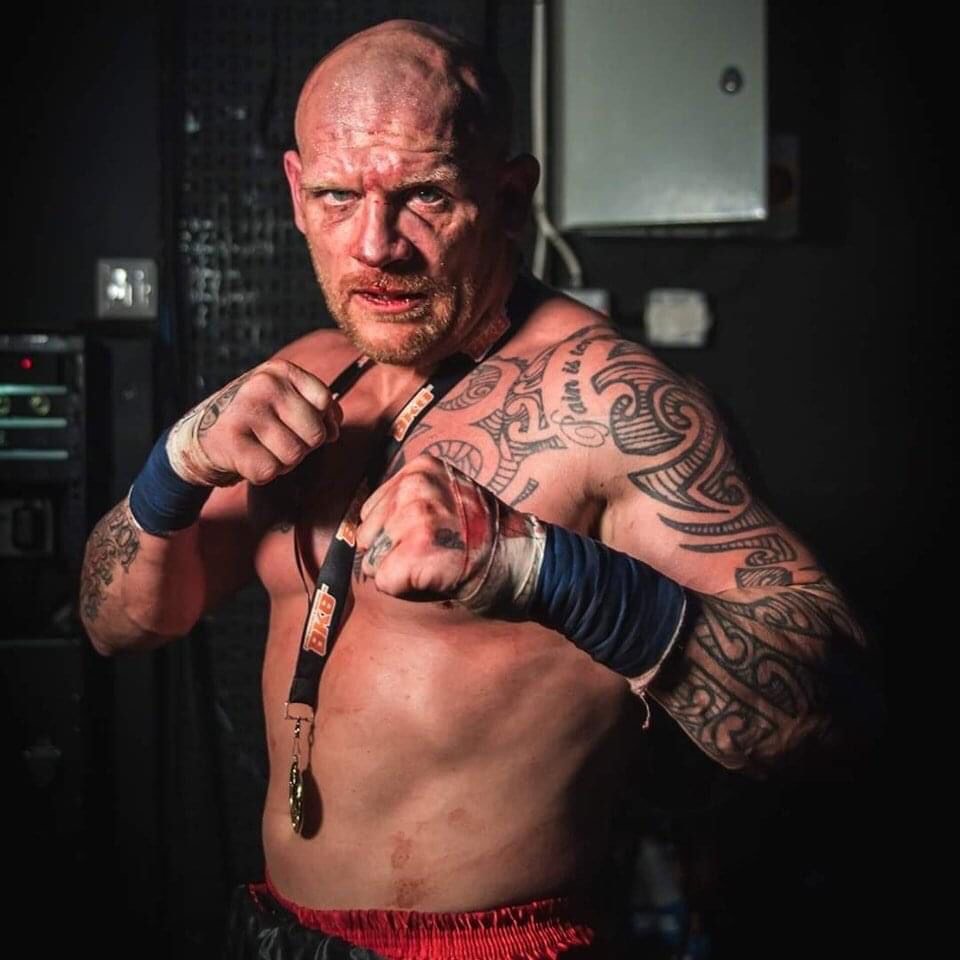 BKB 34
Your BKB 34 opponent has fought for the promotion before as well as BYB and has a 100 percent finishing rate so far. But in terms of resume, you've got more than double the fights he has in bare-knuckle now.
Do you think the strength of resume at this point and the specific experience in bare-knuckle will be one of the big variables in your favor here?
"Yeah, I would say it would be with the rounds and stuff like that. But I'm not taking anything away from him. He's still a tough guy. The reason that his fights have not gone the distance or anything like that, it's not because the guys he's fought aren't good fighters or aren't tough guys. You sort of just, you fight who's in front of you at the end of the day and he's put all three of them out quite quick. The only thing I know that I'm gonna do is I won't be being put away fast."
Aaron McCallum vs Mark Tiffin
Aaron McCallum continued, "I mean you're gonna have to really put it on me to stop me fast in a quick succession. I know I'm as tough as they come and I should imagine he knows that. But again yeah, I'm not going to take anything away from him. He's still a tough guy, he's doing bare knuckle, we all are. You can't really shy away from him being that he's had a few fights and it's been quick you know what I mean? You still got to know they're tough lads. So yeah, I still know he's coming for it."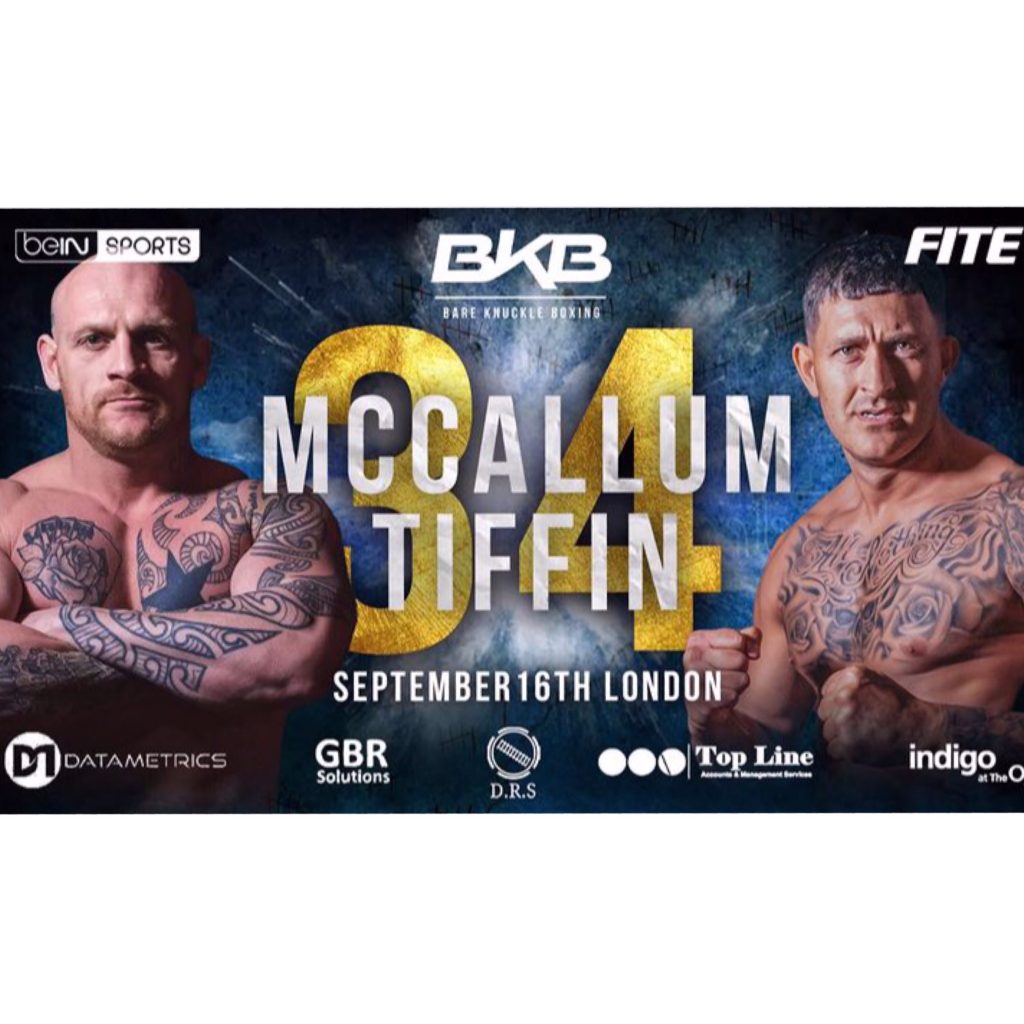 BKB
You gave a good breakdown of Scott McHugh's better stylistic attributes when I was talking to you before that particular fight.
What would you say some of the more impressive X's and O's are of Tiffin's in-ring techniques in bare-knuckle as we head into BKB 34?
"Just the way he comes in with the power. I think his best way of fighting is how I was at the start, you just overpower your fighter. Not many people deal with that you see. But because I'm a short guy and I've always every fight I've had ever, I've always had it sort of put on me. No matter what fight it has been. So I'm sort of used to that pressure of a fight. When I fought Luke Nevin, he put that pressure on me. I didn't expect it but the thing I took away from that fight was to always expect that; a fighter to put it on you."
Bare Knuckle Boxing
Aaron McCallum continued, "So that'll never happen to me again you know what I mean? So I'd say his best attribute is definitely his power, what he comes forward with. But I'm ready for that. I mean I'll go toe to toe with him if he wants to go face-to-face. I'll also box him. The stuff I've learned in this short succession about with boxing and stuff like that, I'm actually outboxing a few decent boxers. I mean when you look at me and McHugh, I did some decent boxing against him."
"Then John Collier as well who is known for being a very good boxer, I outboxed him in the ring as well. So it's all coming together. I think Tiffin knows that he's got a decent boxer on his hands and someone that can also brawl as well. So he's got a lot to bring to the table I know that."
I've been enamored with combat sports for as long as I can remember. I've hosted MMA talk shows Lights Out and Pure Fight Radio with featured guests like Jens Pulver, Roy Nelson, Miesha Tate, Mark Coleman, and more. I've been an MMA broadcaster for XFFC as well as BTC and have done play by play commentary on live pay per view on GFL as well as FITE TV. I've provided written, audio, and video content covering some of the biggest MMA promotions like Rumble in the Cage, Unified MMA, and King of the Cage. I've worked as a sports entertainment personality for over five years and given play-by-play or featured promotions of KSW, ONE Championship, TKO, and Invicta FC. My work can be found in the USA Today Sports affiliate MMA Torch, Cageside Press, MMA Sucka, and Liberty Multimedia.