Mark Tiffin on Aaron McCallum "Gonna Have To Knock Him Out"
Mark Tiffin and Aaron McCallum clash for vacant BKB British gold at BKB 34 on September 16th.
The fistic fireworks emanate from Indigo at The O2 in London, England, and the broadcast goes down on beIN Sports.
Tiffin spoke to me on Bowks Talking Bouts before the BKB 34 championship affair. Excerpts from the chat are below.
Mark Tiffin
Do you think with the caliber and the experience of your opponent here that this BKB 34 clash is a fight that will give you that platform to showcase a more comprehensive skill set?
"I'm gonna just lock him out to stop him and that's what I like about it. This is what I'm looking forward to because I'm gonna have to knock him out. I know he's game. So yeah, I'm gonna have to knock him out to stop him. That's what excites me because he's got to do the same to me because I'll never quit."
"We've both done the same. Coming from no boxing backgrounds and stuff like that. He used to be a bodybuilder before he started this. So he'll be learning on on job as well. So I'm looking forward to it to be quite honest."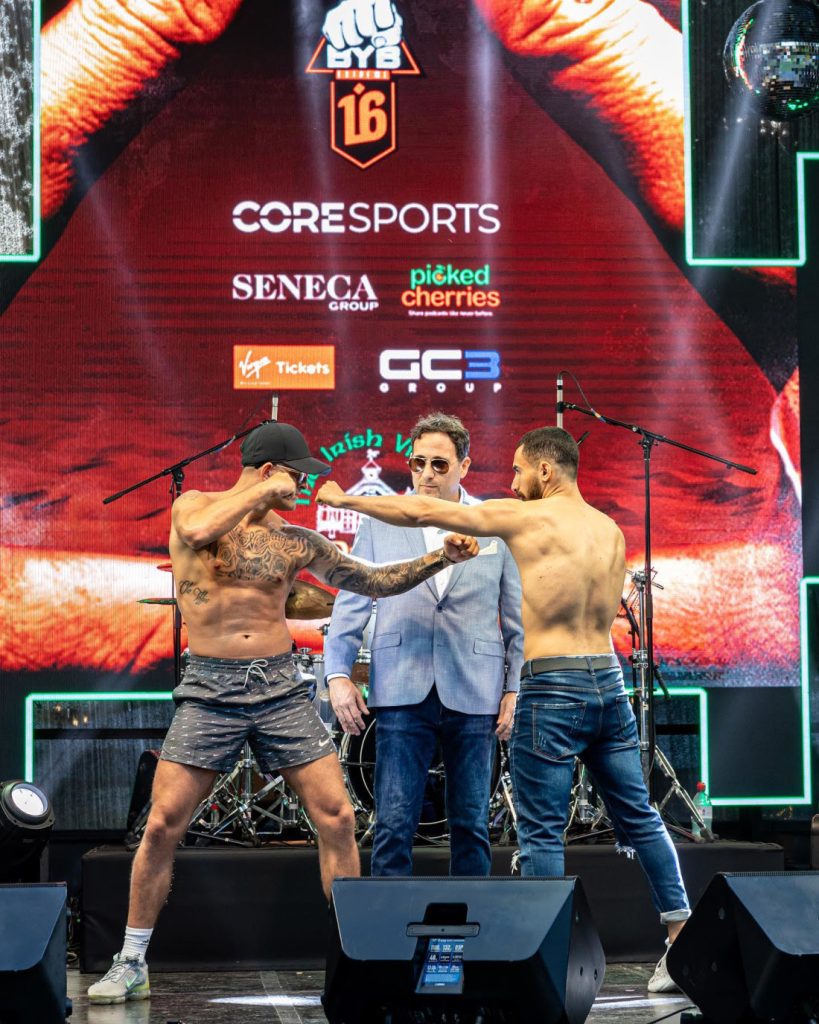 BKB 34
McCallum previously fought Scott McHugh for the gold. But something I thought was kind of interesting was during their post-fight interview. McHugh was suggesting Aaron McCallum and yourself as the next title fight as Scott McHugh's vacating that British title to try to fight for a world title.
What are your thoughts on all of that with McHugh being a bit of a clairvoyant/ matchmaker for BKB 34?
"I was there. I was just behind the camera at that point. Well, I'm really good friends with Scott and that's the reason why he vacated because both of us would have been in that tournament. We just came to an agreement that he wanted to be in this tournament. They were going to vacate belts so I could fight for it. Because I was next in line, so, and he wants to be in the tournament. But they were going to put both of us in the tournament. So that's what happened."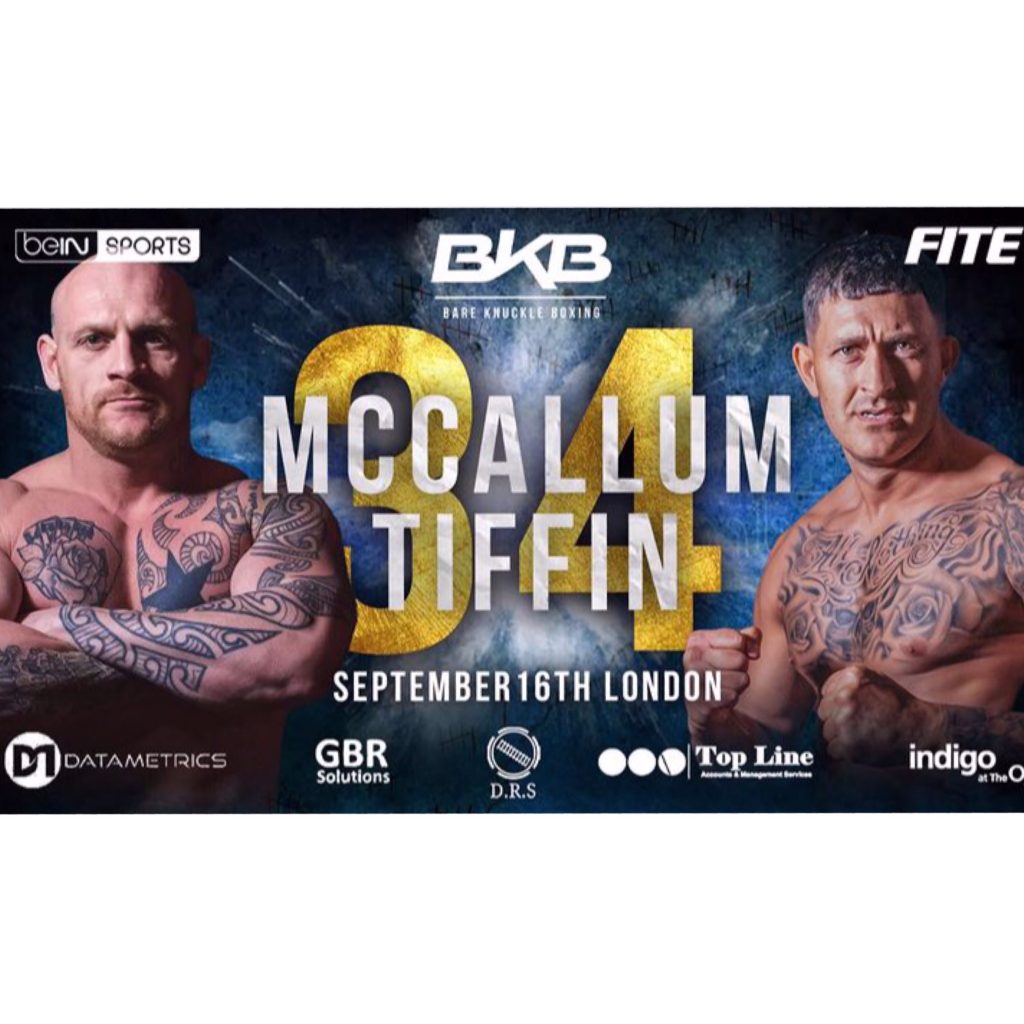 BKB
You recently had a fight on the same card as your son Frazer Tiffin. Can you get into more of the details on that cool bonding experience?
"Yeah, that were on Scott McHugh's show that. That were just after Dubai. I wasn't gonna fight because I didn't do no training or anything. I had obviously had a massive camp for that Dubai job. Then I wanted a little bit of a rest. But then me son got matched and it were his first-ever bout. I just thought well I think it'd be nice for father and son to be on the same show."
Mark Tiffin continued, "So I just took it. I didn't do no training. I just was fit anyway from me last fight from the Dubai. So it was only like maybe three weeks after. So, I didn't really need much training anyway. Yeah, it was good and we both came back with a win."
Mark Tiffin vs Aaron McCallum
"It was unreal. I've never ever; Like you get like bits of nerves like adrenaline type thing but I was emotional. It was the worst time in my life. I was so excited just to see my little boy in there, but I was so scared as well. Thinking if whatever happens to him, I can't help him and stuff like that. I teared up, to be honest. I was in his corner, and I teared up thinking well he don't even need me now."
"Like usually your kids look up to you and I was just in his corner thinking he's doing this off his own back. Not a care in the world, it was absolutely unreal. I got to wake him up on fight day and I got to wake him up out of bed. I said Frazer you're fighting tonight. He says oh yeah, I know. I said so what are you doing in bed? It's his first-ever fight, he says well it's only a fight, isn't it? I said well, what do you mean? I said mate, you need to understand what you're doing."
Bare Knuckle Boxing
Mark Tiffin continued, "It's not going on PlayStation like nothing's happening. That's why he's a bit too cool here. Anyway, we got there. He's getting his hands wrapped and stuff like that. I said are you feeling alright? He said yeah, I'm confident, I'm ready but I thought Jesus. He like just wasn't bothered one bit. Even in workout I just thought Jesus, just wasn't bothered. I thought is it too confident or does he realize what he's getting himself into? He just took it like a duck to water."
"I mean he's like really excited, won. I had a bit of a tear in my eye. Thought Jesus Christ, I never thought I'd cry over something like that. But it was just like emotional and then I realized oh I'm on next. So I need to get myself sorted (laughs). But yeah it were good, I enjoyed it. Well yeah, I'm looking forward to this next fight. My kids are saying oh Daddy we want this belt, win this belt. So I'll be fighting for me kids as well. It's not just for me and it's coming home for them."
I've been enamored with combat sports for as long as I can remember. I've hosted MMA talk shows Lights Out and Pure Fight Radio with featured guests like Jens Pulver, Roy Nelson, Miesha Tate, Mark Coleman, and more. I've been an MMA broadcaster for XFFC as well as BTC and have done play by play commentary on live pay per view on GFL as well as FITE TV. I've provided written, audio, and video content covering some of the biggest MMA promotions like Rumble in the Cage, Unified MMA, and King of the Cage. I've worked as a sports entertainment personality for over five years and given play-by-play or featured promotions of KSW, ONE Championship, TKO, and Invicta FC. My work can be found in the USA Today Sports affiliate MMA Torch, Cageside Press, MMA Sucka, and Liberty Multimedia.