What's next for Chris Weidman?
Former UFC Middleweight Champion Chris Weidman just picked up his first win in over three years this past Saturday at UFC Fight Night 174, where he defeated Omari Akhmedov via unanimous decision (29-27, 29-27, 29-28). It wasn't his best performance, that's for certain, but he did what he needed to do to get the win, and he did need a win badly.
It was a very close, competitive fight up until round three. Round one went to Weidman 10-9, and round two went to Akhmedov 10-9, it all came down to round three, where two judges scored the round 10-8 for Weidman, while the other had it 10-9 for him.
A very interesting fact about this fight, Weidman had never been taken down more than twice in a fight prior, and Akhmedov took him down four times. The only two opponents he's ever had that took him down are actually Yoel Romero and Luke Rockhold, who each took him down twice. He took Romero down once in their fight, while he took Rockhold down three times throughout their bout.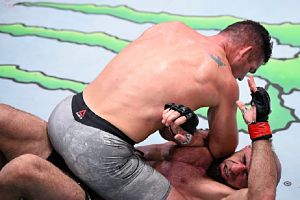 It was back-and-forth in the wrestling department in his fight with Akhmedov, however, he did score the final takedown of the fight in round three, totaling five takedowns, and he held mount and back mount for the rest of the fight. Akhmedov was 5-0-1 in his last six, and was previously undefeated at middleweight.
There are tons of match ups that'd be fun to see the former champion partake in, but there are two that really stand out, a rematch with Luke Rockhold or a trilogy with Anderson Silva.
Though he beat Silva twice, most people consider them fluke wins, even though he was dominating the second fight. There's been talk about him rematching Rockhold for quite some time now, but it's never come together.
An immediate rematch was set to take place with Rockhold after Rockhold took his belt, but Weidman was forced out with a herniated disc in his back. They were also set to rematch just before Rockhold's last fight, but Rockhold was forced out with his recurring shin injury.
Rockhold ended up moving up to light-heavyweight about half a year later to face Jan Blachowicz, a fight he got his jaw broken in, and he's since retired. However, Rockhold just told ESPN this past Sunday that he's making a return.
The Rockhold fight is very interesting because they had such an incredible fight the first time around when they were both at their best. Neither are at their best anymore, and neither have done too well since, but they're still elite fighters with a name. Since their first encounter, Rockhold has gone 1-3, while Weidman has gone 2-5.
Both of them have five losses, all five via strikes with four of Rockhold's coming via KO, and three of Weidman's coming via KO. That just makes for an interesting match up, the former Strikeforce Middleweight Champion with two defenses and former UFC Middleweight Champion versus the former UFC Middleweight Champion with three defenses. Each of them have four world titles, it'd be a great rematch to witness.
As for a trilogy with Silva, that also makes a good amount of sense. Silva has gone 1-6 (1 NC) since his first fight with Weidman, and as we know, as mentioned above, Weidman isn't the same fighter he was then. Neither of them are, that's why this match up is also compelling. Silva has two fights left on his contract, and Weidman appears he may be close to the end of his career as well.
In their first fight, Silva was picking Weidman apart quite handily, effecting Weidman with nasty leg kicks, amongst other strikes. He just got too arrogant, and Weidman capitalized with a beautiful boxing combo, the last punch of which, a left hook, landed, and knocked Silva out. Weidman got no respect after this fight.
Their second fight was all Weidman. He hurt Silva badly in round one and almost finished him, but Silva was able to stay composed enough to continue to the end of the round.
In round two, just two seconds before the end of their first fight, Silva threw a leg kick that Weidman checked perfectly, and it broke Silva's leg, granting Weidman the TKO victory. He also didn't get much respect from this fight, it's a shame.
It'd be great to see Weidman fight either of these men next, but we'll have to wait and see what happens. Weidman wasn't too happy with his performance this past weekend, saying even the times where he looked good, it was still sloppy. He isn't wrong, but really, all he needed to do is get the W last weekend. Now he's coming off a win, and has the confidence of a fighter coming off a win considering.
What's next for Chris Weidman?
I became a fan of combat sports when I was 12 years old. I was scrolling through the channels and landed upon versus, where WEC was televised. Urijah Faber fought Jens Pulver for the second time that night. That's the first fight I saw, and the fight that got me hooked on the sport. Since then, the sport has grown so rapidly, and my goal is to enlighten everyone on what's going on in the sport today.